Have you ever been sitting on your porch or deck and wished you had some protection from the rain? Or maybe you want to add extra shade and comfort to your outdoor living space? If so, a motorized retractable awning might be just what you need! Retracting awnings for the patio or lanai is the perfect solution! With the touch of a button, you can have instant access to cool, shaded relief from the sun.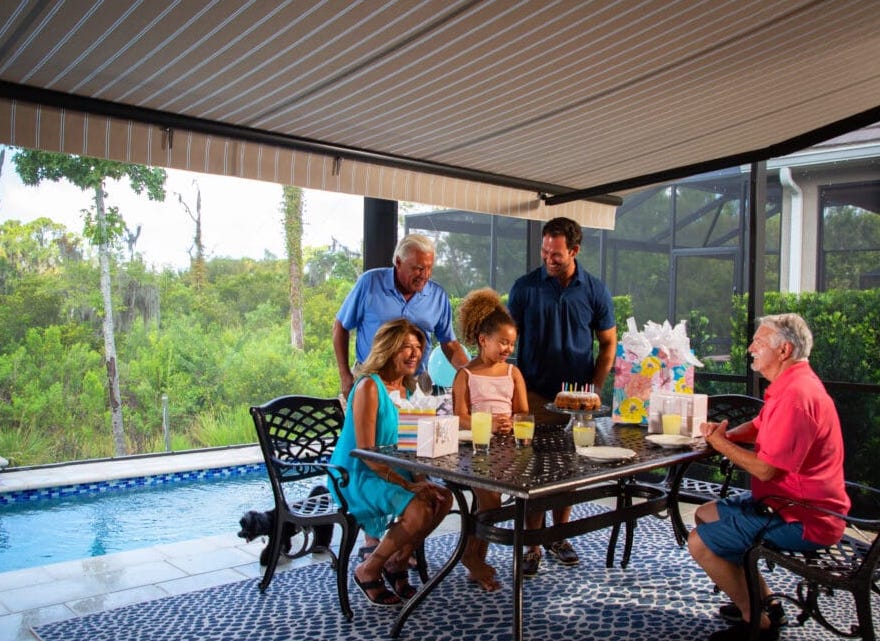 What to Consider When Purchasing a Wesley Chapel Retractable Awning
When you're looking to purchase a motorized patio awning, there are several factors you'll want to take into account. Here at SPF Screens & Awnings, our sales team will be happy to help you find the perfect retractable awning for your needs. And, as always, we desire nothing more than customer satisfaction. With that in mind, here are a few things you'll want to consider before purchasing.
As you look around your home, determine what areas could benefit from additional protection against harmful UV rays. Don't forget about interior windows; we have the perfect solution for your media rooms and offices.
Pairing Multiple
Products
As mentioned above, we have more than just motorized awnings. SPF has an extensive line of sun-blocking products like garage door bug screens and privacy screens for your pool. When you use a variety of products, you will have maximum protection.
The Florida sun can be hot and downright nasty during summer. Don't forget about those pop-up thunderstorms that come out of nowhere. When prepared with a retractable motorized awning, you can still comfortably enjoy the outdoors.
Our motorized retractable awnings are easy to care for and maintain. We recommend cleaning the fabric several times a year to keep it looking new.
Wesley Chapel Motorized Awning Features
Awnings are a great way to enjoy the outdoors while protecting from the sun and rain. Retractable awnings are even more convenient, as they can be easily retracted into protective housing when not used. There are a variety of features that make retractable awnings an appealing choice for many homeowners.
SPF understands the need for convenience. That's why we offer automatic wind sensors for our retracting canvas awnings. These sensors will retract the patio awning when it senses winds are too high. This feature gives you peace of mind if you're not home when a storm passes through.
Our remote-controlled outdoor awnings make it easy to roll out and retract your beautiful awning with just the push of a button. All from the comfort of your seat!
We are proud to feature beautiful fabric selections from Sunbrella. The construction of Sunbrella material is durable and resists fading, which is essential for those living in southern states.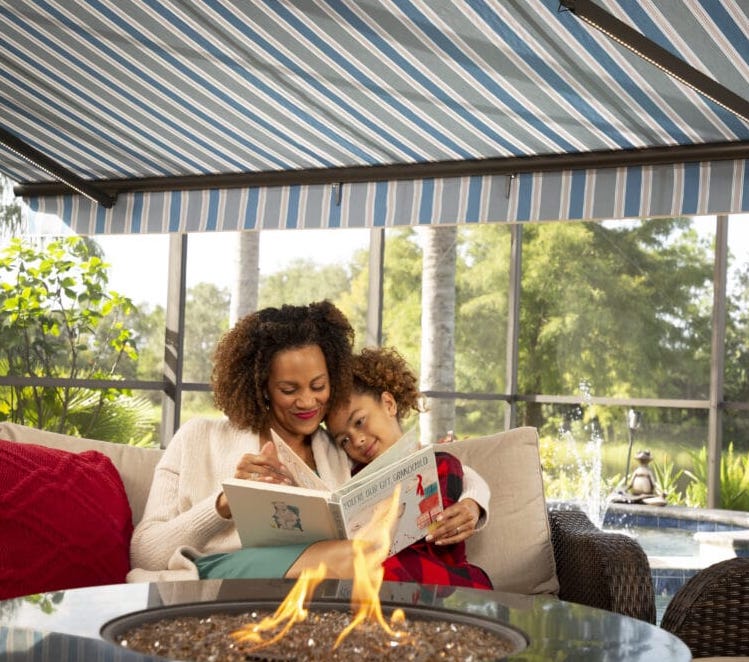 Why Partner with SPF Screens & Awnings for Your Motorized Shade Products
If you're looking for a company to partner with for your shade needs, look no further than SPF Screens & Awnings. Customer satisfaction is our goal, and we're proud to earn a five-star rating from our valued clients. Check out our gallery to see some of our past projects. When you partner with SPF, you can be confident that you're working with the best in the business.
Warranty: We offer a ten-year guarantee on the mechanics and a five-year warranty on the fabrics.
Price Match: SPF is happy to price match with competitive prices.
Locally Operated: Our facility is run by employees who are local to your community and care about you.
Family Owned: SPF is thrilled to be a family business, and we thrive on your satisfaction.
Factors To Consider When Purchasing a Wesley Retractable Awning
When you are looking to invest in something that will add value and curb appeal to your home, you should consider all the options before finalizing the purchase. The team here at SPF is ready to assist you through each aspect of the buying process and help you think through things you may not have considered.
Most days, the sun is shining bright and hot in Florida, and the need for shade is essential to staying safe. However, protection from those pop-up rainstorms is also necessary if you plan to continue relaxing outdoors.
SPF Screens & Awnings is more than just retractable awnings. We are proud to offer a full lineup of sun-blocking products that add style and function to your home. Check out some of our motorized privacy screens here.
Think beyond your backyard patio or deck. A motorized awning over your porch as you unload groceries or children could be beneficial. Our sales team will happily assist you with multiple products to offer maximum protection.
Purchasing a Motorized Awning is Easy as 1-2-3
Shopping for a retracting deck awning should not be a task you dread. We have made the process straightforward and are ready to partner with you to bring your dreams to reality. Contact us today to get started!
Get an Estimate

The SPF sales team is ready to meet you and see how we can help you with your shade needs. They will measure the space you plan to have a motorized awning installed and give you a free customized quote based on your needs and wants.

Select the Fabric

Choose from a vast selection of Sunbrella fabrics that will complement the style and landscape of your home. Our talented design team is happy to help you through this exciting part.

We Will Install

You do not need to lift a finger when it comes to the installation of your new retractable awning for your patio. Our qualified team of installers will take care of everything for you. We never hire contractors to do the job, so you can rest assured someone from our SPF will be there to complete the job.
Commonly Asked Questions about Wesley Chapel Motorized Awnings