Punta Gorda Retractable Awnings
These electric awnings are easy to use and are remote controlled, making them an excellent choice for any home. In addition, motorized retractable awnings are available in various styles and colors to match any home's décor. Whether you're looking for a traditional or contemporary look, there's a retractable outdoor awning to suit your needs. And because they're made with high-quality materials, you can rest assured that the shelter will provide years of enjoyment. So why not add a motorized retractable awning to your home today? Contact us today to get started!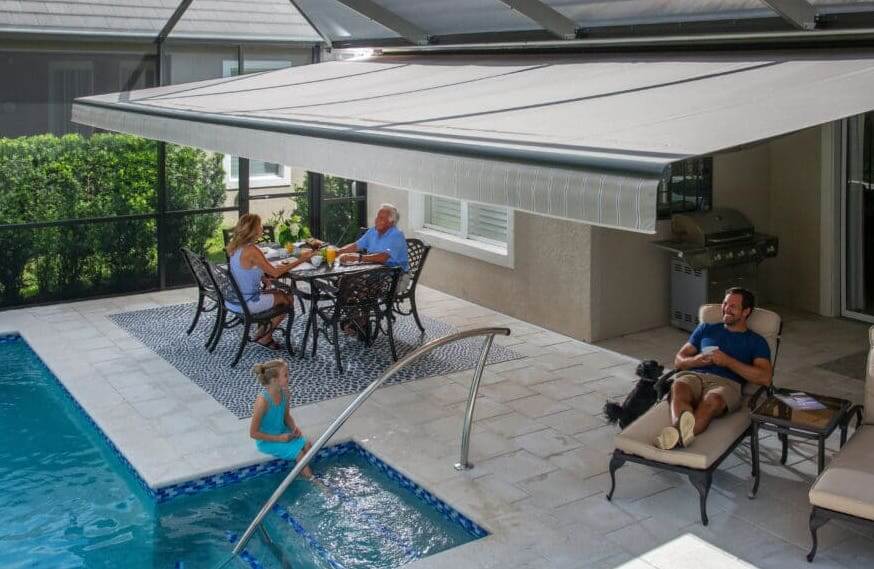 Perks of a Punta Gorda Motorized Retractable Awning
The great thing about a motorized retractable patio awning for your deck is that they make your life easier. No more having to manually open and close the canvas every time you want to enjoy the outdoors. And when the weather takes a turn for the worse, you can retract your electric awning in minutes with the push of a button.
When the sun is beating down, a retractable awning provides welcoming shade. It's the perfect way to enjoy your outdoor space while staying cool and comfortable.
A motorized retractable awning is an excellent resource to keep your patio furniture dry and protected from the elements. You can extend your retracting roof to create shelter from the sun or rain. The motorized deck awning can be retracted to save space when not in use.
A quick and easy way to add style to your lanai is with the addition of a retracting motorized awning. You can transform your outdoor space into a stylish oasis with just a few clicks. The motorized awning for your patio will add instant luxury to your home.
Our wind sensing technology can help protect your fabric awning from wind damage. Our system will automatically retract the electric roof when high winds are detected. A retractable awning with wind sensing technology will keep your mind at ease when a storm comes out of nowhere, especially if you are not home.
Punta Gorda Retractable Awning Features
Motorized retractable awnings are a great way to enjoy your patio or deck while providing energy efficiency and easy operation. A retractable patio awning can open and close with a remote, making them convenient for use when the weather is sunny or shady. In addition, our outdoor motorized awnings are made with energy-efficient Sunbrella fabric that can reflect sunlight and help keep your home cool during hot summer days. And when not in use, electric awnings can be retracted out of sight, protecting them from wind and weather damage. Whether you're looking for sun protection or energy savings, motorized retractable awnings are an ideal solution.
At SPF, we pride our work on the highest quality parts we use to assemble each retractable motorized patio awning. These heavy-duty parts are USA-made which means you are getting the best.
Many of our clients have seen a reduction in their cooling costs, especially in the summer months, due to our outdoor electric patio awnings' sun-blocking technology.
It simply does not get any easier than pressing a button from the comfort of your seat, and the retracting awning will release from its protective housing.
We have various Sunbrella fabric choices and styles for you to choose from. We are confident you will find the perfect selection to compliment your home and patio.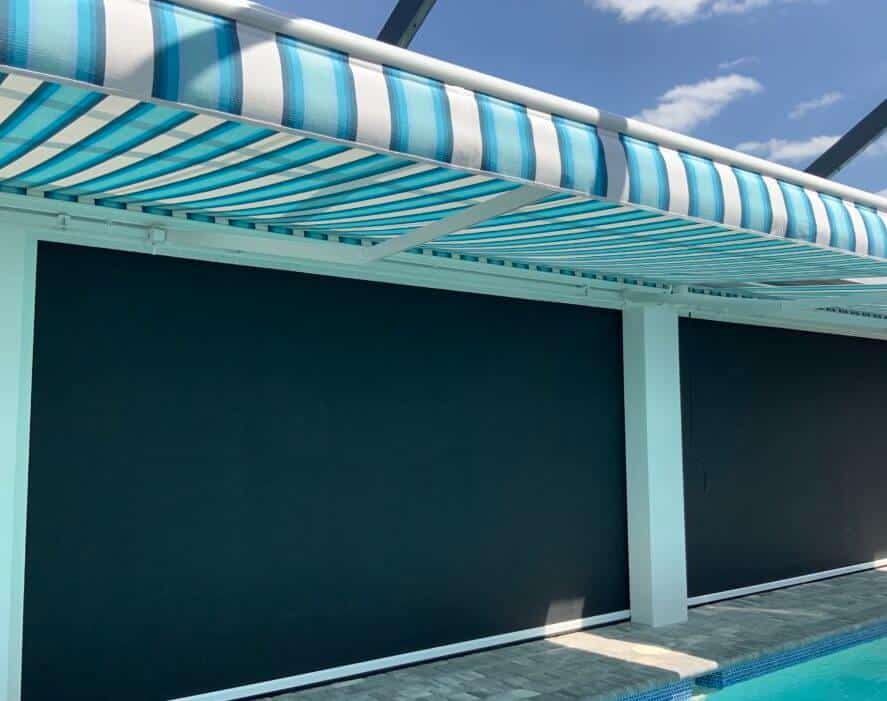 Manual Awning vs. Motorized Awning
Awnings are available in different shapes and sizes, but you'll need to decide whether you want a manual or motorized awning. Manual roofs require muscle to open and close, which may not be ideal if you have large windows or lots of sun exposure. Motorized awnings are user-friendly because they operate with the push of a button and come with a remote control for added convenience.
Why Partner with SPF in Punta Gorda
As a leading provider of sun protection products in Florida, we are committed to offering our customers the best possible products and services. We are proud to have a 5-star rating from our valued customers. Please read some of our reviews here.
SPF is a locally operated and family-owned business, and we understand the importance of providing outstanding customer service. SPF offers a price match guarantee, and we stand behind our manufacturing with a warranty. We are dedicated to providing the best possible experience for our customers, and we hope you will consider partnering with us for all of your shade needs.
Additional Considerations
In addition to price, size, and style, there are a few other factors you should take into account when shopping for a motorized retractable awning in Punta Gorda.
Florida Weather

If your home is along the water or in an area prone to high winds, consider additional coverage and protection. The weather can go from hot and sunny to windy and raining without much notice, and an outdoor waterproof retractable awning will provide the instant coverage you need to stay cool and dry.

Coverage Needs

Take a look around your home and determine areas where you desire protection from the elements. Depending on the size of your patio or lanai, more than one retractable awning could be beneficial for maximum coverage.

Required Maintenance

There is little care needed to keep your motorized awning looking and working like new. You can follow a few simple steps to clean and maintain your electric canvas roof a few times a year.
Commonly Asked Questions About Punta Gorda Motorized Retractable Awnings