Pasco Retractable Awnings
Whether you're looking for an outdoor living space that is more comfortable and inviting or want to protect your deck from rain and sun damage, in one simple purchase, motorized patio retractable awnings with wind sensors can protect against the elements. With styles ranging from traditional and contemporary, there's always an option that will suit your taste.
These durable products will provide years' worth of protection against harsh weather conditions while also adding style to your home's exterior decorating needs! And if you're looking for convenience in remote-controlled operation - look no further than this great option! Contact us today to get started; our team looks forward to serving you!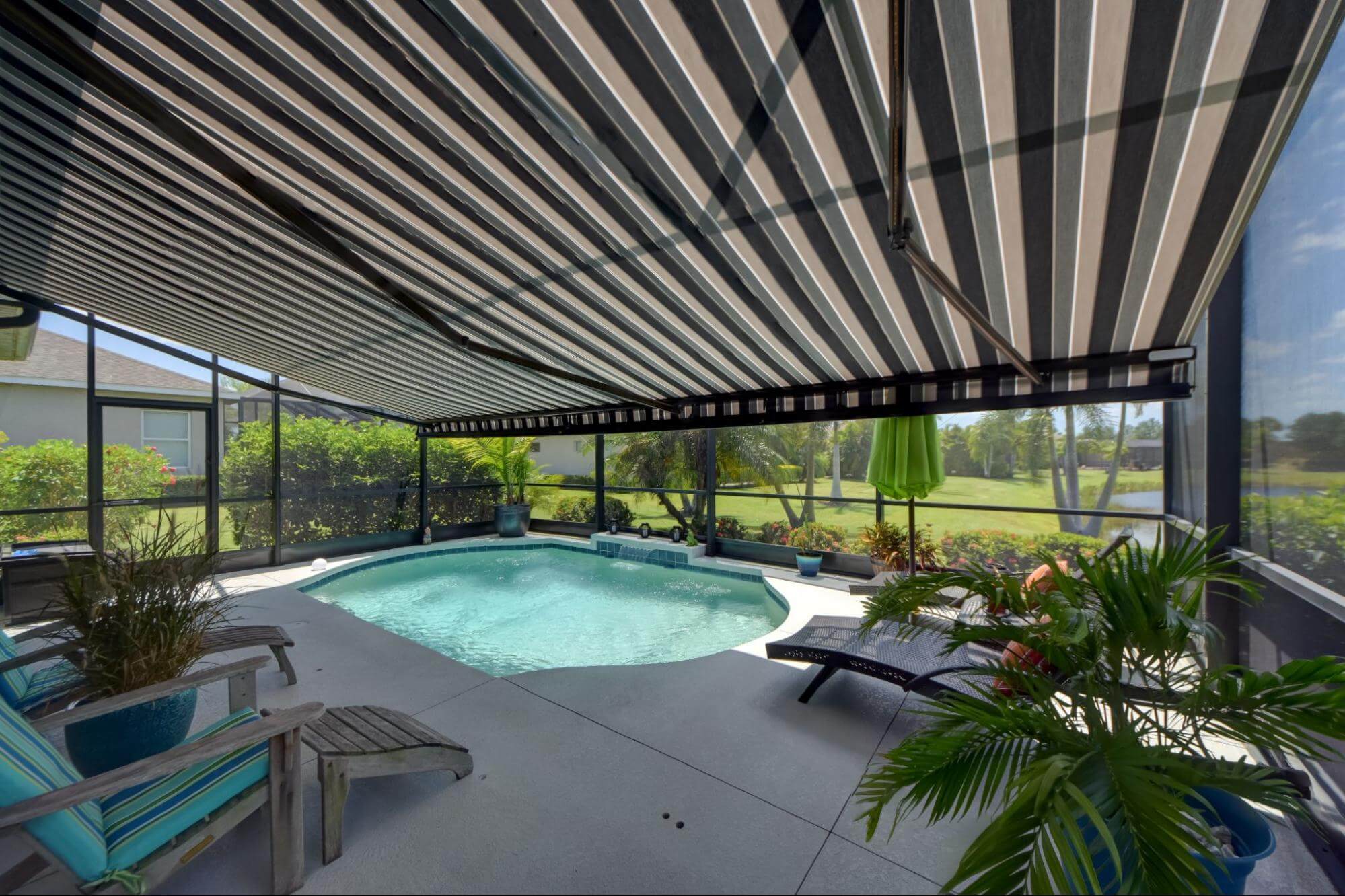 Features of a Pasco Motorized Retractable Awnings
Retractable motorized awnings are an easy and efficient way to enjoy your patio or deck while providing energy efficiency. The outdoor rolling canvas shade can open and close with the push of a button in sunny weather conditions, making it convenient for use when the temperature is high outside! In addition, they come equipped with Sunbrella fabric that reflects sunlight which helps keep homes cool during hot summer days.
The great thing about this electric retractable outdoor awning is you can press a button on a remote from the comfort of your seat and have instant shade and protection from the hot sun and light rain.
We offer Sunbrella fabrics in hundreds of colors and patterns. With so many options, you'll be able to find the perfect match that complements your home perfectly while still being durable enough to withstand weather conditions and last even longer than others on the market today.
The quality of our motorized retractable patio awning is second to none, and we're proud that all the parts used in their assembly come from United States-made suppliers.
Our outdoor electric patio awnings have helped reduce cooling costs for many of our clients in the summer. The components within the canvas material block 97% of the sunlight and make your home more comfortable without you having to do anything extra!
Pasco Retractable Motorized Awning Benefits
The convenience of a motorized retractable patio awning is in its ability to provide an outdoor space that is both comfortable and protected from inclement weather. You no longer worry about manually opening or closing your canvas roof when going outside, as this task can be done automatically through remote control!
Motorized retractable patio awnings are an excellent way to keep your outdoor furniture and decor dry and protected from the elements. When you don't need the awning, retract the canvas roof into its encased housing.
Our wind sensing technology is designed to help protect your fabric awning from damage caused by high winds. When exposed, our system will automatically retract the electric roof and reduce strain on its hinges so you can stay comfortable during storms without worrying about it coming apart or breaking down altogether!
A retractable motorized awning for your lanai is an excellent solution for protecting your outdoor space from harsh sun rays. It provides welcome shade, which will keep you and your family cool and comfortable during those hot summer days!
An SPF motorized retractable awning is one of the most simple and easy ways to add style, comfortability, safety features, and an extra layer of protection against inclement weather. The powered roof system will instantly transform any lanai into a stylish oasis; this feature will attract future potential Pasco homebuyers and boost your home on the market.
Why a Pasco Motorized Awning is Better Than a Manual Awning
Awnings are a great addition to your home, providing shade and protection from the sun and elements. Retractable canvas roof systems are available in various shapes and sizes, and you can choose between manual and motorized models. Manual roofs require arm strength to open and close, which may not be ideal for most people. Motorized patio awnings are user-friendly because they operate with the push of a button and come with remote control for added accommodation.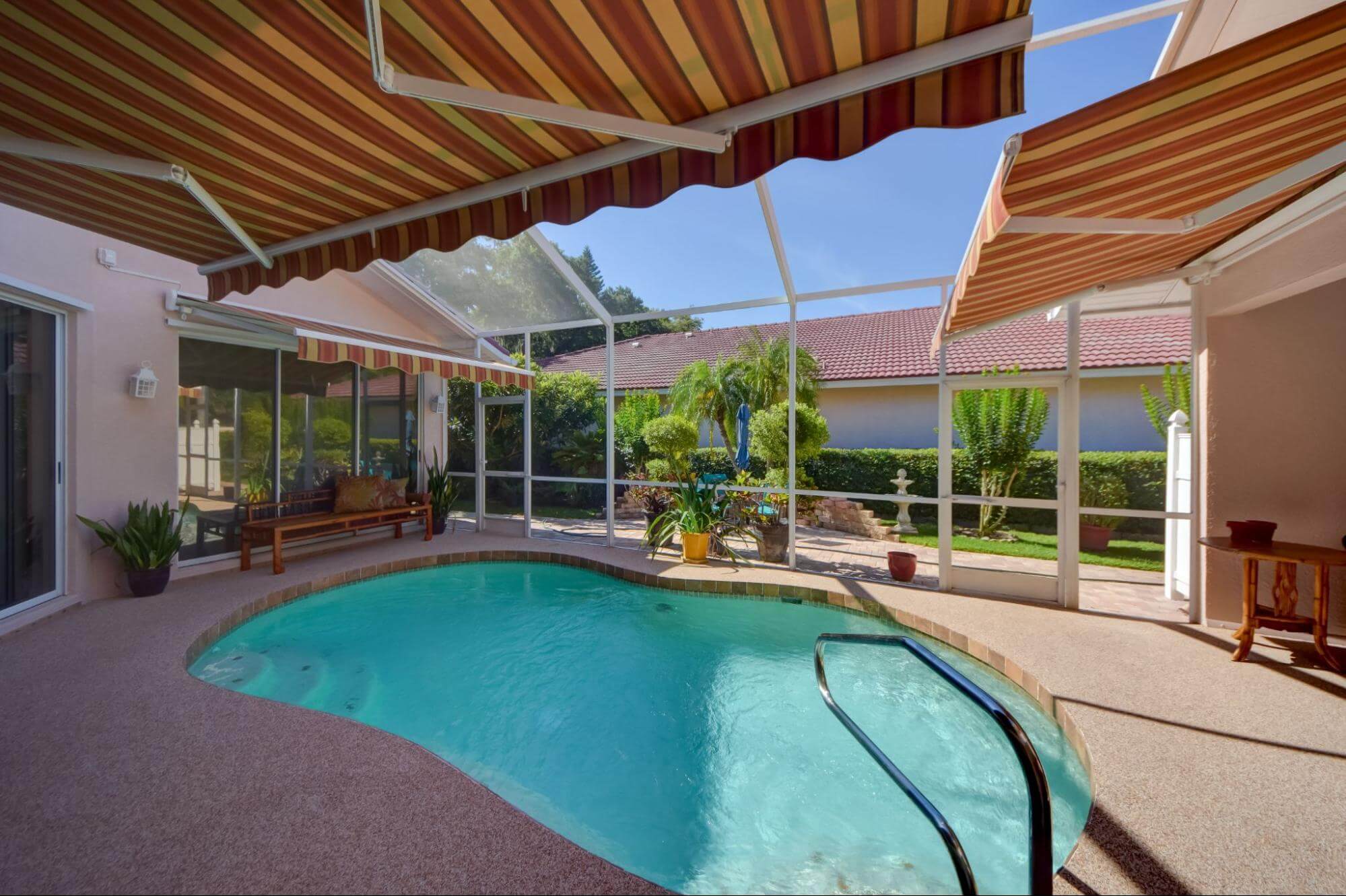 Sun Protection of Florida Values Our Customers
Locally Operated
Sun Protection of Florida is committed to keeping prices low and providing quality services. We manufacture our retractable products in-state to maintain a close relationship with the people who hire us and provide jobs for those nearby in our production facilities.
Family Owned
It's not easy to earn a five-star rating! Our family is 100% invested in this business, and we're committed to everyone we have the pleasure of serving. We do everything possible for our customers - from providing excellent service and quality products down to giving personal support when needed most.
Price Match
We're committed to providing the best deals on our products, so we'll be happy to price match any competitor's pricing as long it compares with what you can find at SPF.
Warranty
What sets us apart from our competitors is how much we care about your satisfaction. We offer a ten-year warranty on the fabric and five years for any mechanical parts, which means you can feel confident knowing that we will take care of you immediately if anything happens!
Additional Points to Consider for a Pasco Motorized Retractable Awning
Retracting motorized canvas roofs are an excellent choice, but you need to consider more than price and size. You'll want something durable with good reviews. Our customers have given us a five-star rating, and we aim to uphold that reputation.
Maintenance Required

Your outdoor motorized deck awning is an essential part of your home. It can last for years without showing any signs of problems with its functionality with the proper care!

Weather in Florida

The weather in Pasco can change quickly without much warning, so it's essential to have outdoor coverings like waterproof retractable awnings. They provide instant coverage, so you stay cool or dry all day long!

Shade Needs

To ensure your home has complete protection from the elements, look around and determine which areas need protection. A retracting motorized awning could be beneficial if you have a large patio, pool, or lanai that needs two retractable awnings for maximum coverage!

Purchase Additional Products

With our extensive product line, SPF can provide your home with ultimate protection from the harmful rays of sunshine. We have an option for every need, from motorized retractable awnings to balcony screens and garage insect shields!
Frequently Asked Questions about Pasco Motorized Awnings