North Naples Retractable Awnings
Do you have a patio or deck that you love to spend time on? Do you wish you could enjoy it more often, but the sun is just too bright? Or maybe the weather is unpredictable,, and you never know what kind of conditions you'll be facing when you go outside. If this sounds like your life, then motorized retractable awnings are perfect for you! Contact us today for a free consultation.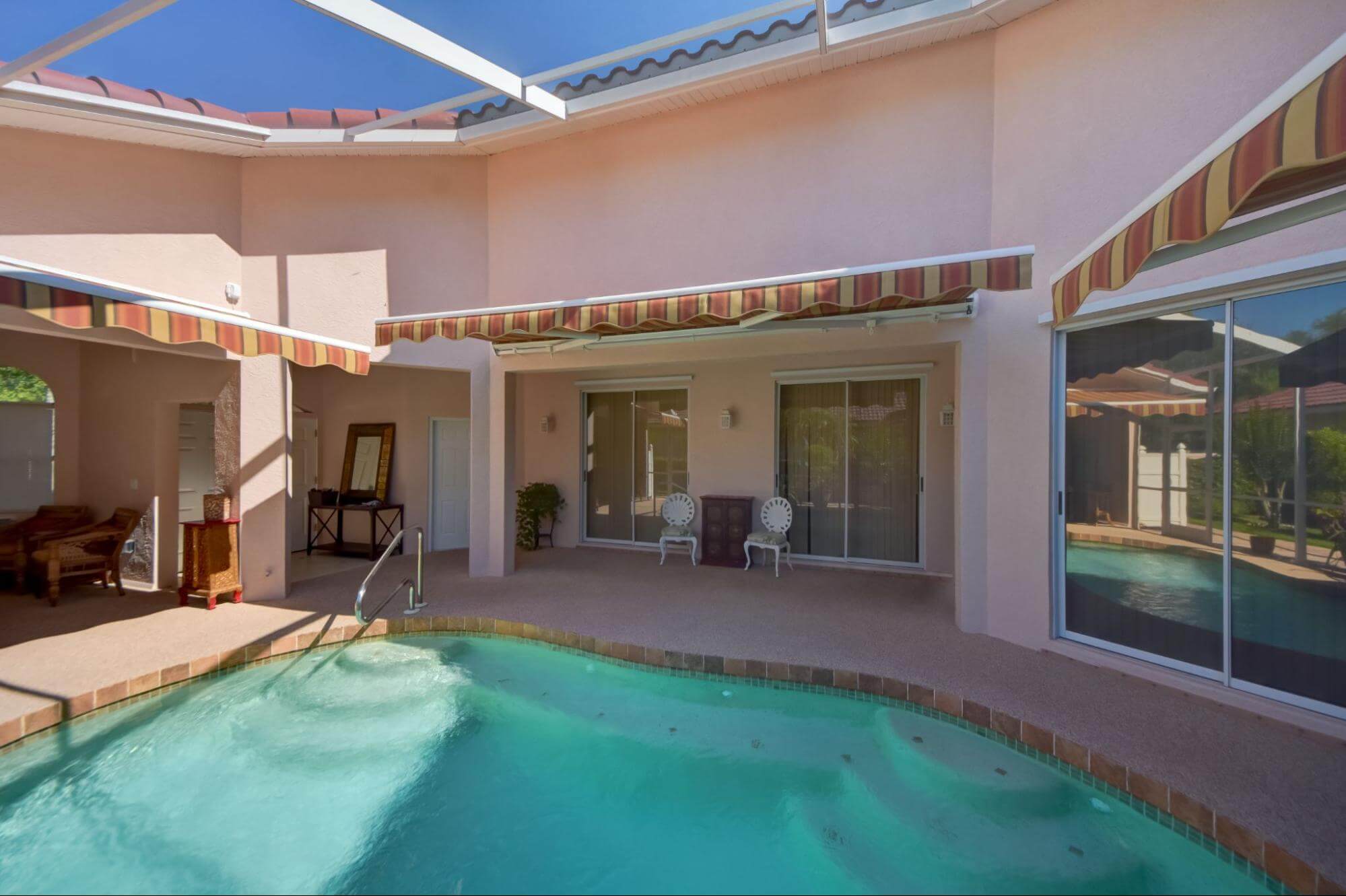 Benefits of a Motorized Retractable Awning in North Naples
If you're looking for a way to improve your home's comfort, a motorized retractable awning may be the perfect solution. Awnings provide shade from the sun in the summer and protection from pop-up rainstorms, making them a valuable addition to any home. There are many benefits of having one of these installed, and we look forward to connecting with you. Get a free quote today!
A retracting awning is great for keeping the deck, patio, or lanai dry. This is especially true if you live in areas with lots of rain or when you get frequent thunderstorms.
SPF equips our electric motorized awnings with wind sensors that automatically retract the canvas roof system when it senses the winds are too high. This feature gives you peace of mind if you're not home when a storm comes rolling through.
Retractable awnings provide optimal shading and can significantly reduce the temperature of an area and make it more comfortable for people to enjoy the outdoors.
Retractable sun shades add color and contrast to your home's exterior, which can make it more visually appealing from the street. A well-chosen motorized roof system can simply make your home look more polished and put together.
Outdoor Furniture Protected
Motorized awnings are the best way to protect your patio furniture because they come with many advantages. You won't have to use any tools for operating since you can power the retracting roof by remote control. Give your furniture extended life and protect the fabrics from fading.
SPF Screens & Awnings North Naples Price Match and Warranty
We're always happy to do business with our clients, and we try to give the best service possible. That's why we offer a price match guarantee on all of our products. We are so confident in the quality of our motorized products that we provide a warranty on all of them. Your satisfaction is our top priority, and we will do whatever it takes to make sure you're happy with your purchase.
Features of a North Naples Retracting Motorized Awning
There are many features of a motorized retractable awning that we are confident you will appreciate. The convenience and added value it will bring to your home are undeniable. Whether you are looking to create more outdoor living space, enjoy your deck or patio more, or simply extend the use of your outdoor areas, a motorized retractable awning is worth considering.
SPF has partnered with high quality motors to power all our eclectic retractable products. From the comfort of your seat and at the push of a button, the motorized awning will roll out smoothly and quietly.
One of the best features that could benefit your purse most is the energy savings you could see. Thanks to the shade a retractable awning provides, the interior of your home will be cooler during those hot days of summer.
The possibilities are endless when the time comes to choose the fabric color and style for your motorized retractable sun shade. We proudly use Sunbrella fabrics, they are known for top-quality textiles that will stand the test of time against fading and damage.
Our team of manufacturers use only the best parts that are made here in the USA to build and assemble your motorized awning. These high-quality and heavy-duty components are constructed to last over time.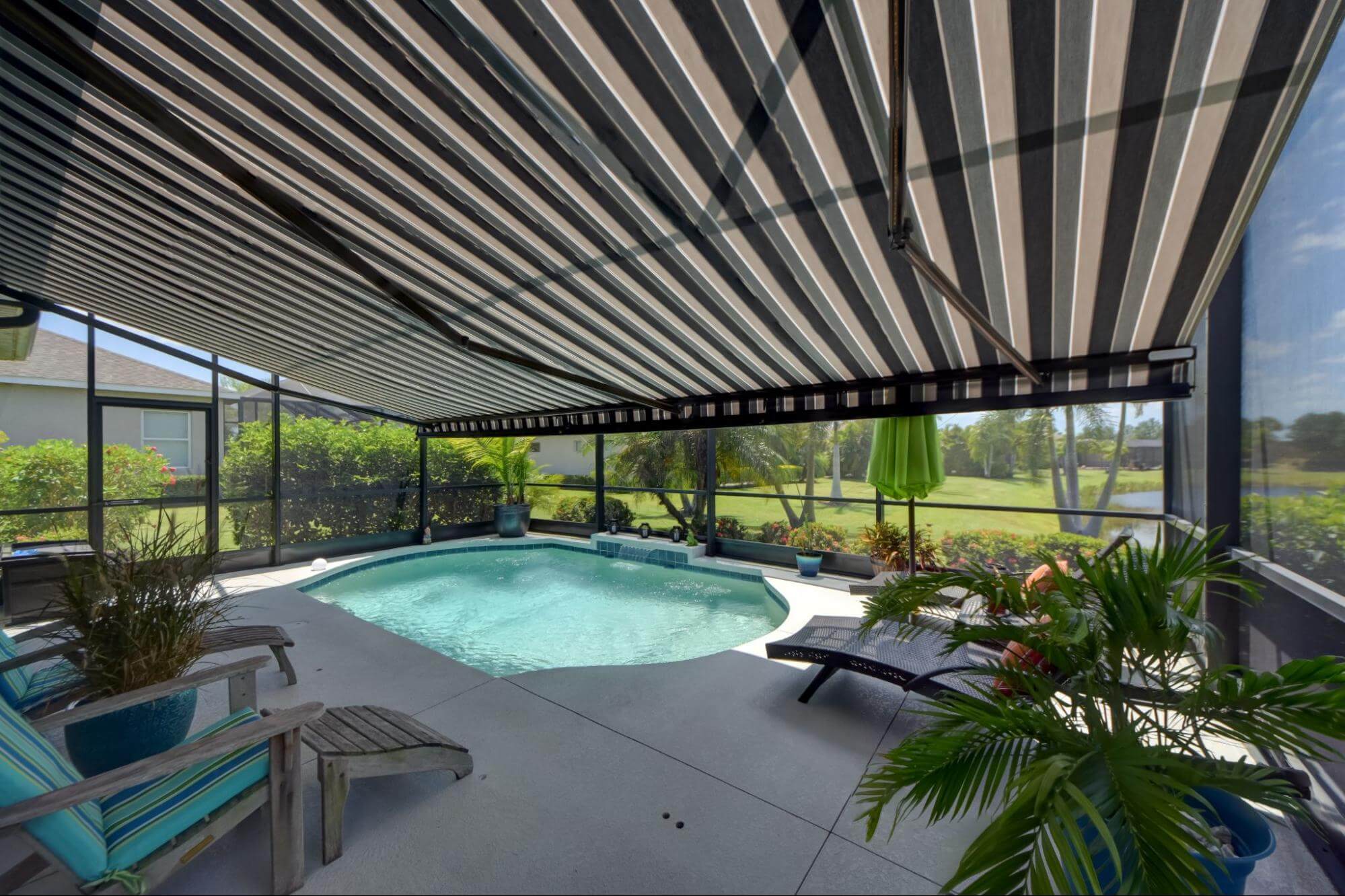 Shopping with SPF North Naples is Easy as 1-2-3
We want your experience to be positive, so we have simplified the shopping process. Our customers have given us a five-star rating, and our goal is to continue providing the best customer service. Read what some of our valued customers have to say here.
Our talented design team is ready to partner with you to bring life and color to your deck, patio, or porch. Choose from various fabrics and colors to give a completely customized look.
On your scheduled installation day, our professional install team will get the job done so you can relax and enjoy your new motorized awning. We never hire contractors to do the job.
Reach out to us and schedule an appointment for our sales team to take a look at your home, measure it, and get you a free customized quote tailored to your needs and wants.
Points to Consider for a North Naples Retractable Awning
Are you thinking about buying a retracting motorized awning? Once you've considered these factors, you'll be able to narrow down your options and choose the perfect retracting motorized awning for your home.
The weather in North Naples can go from hot and sunny one moment, then minutes later,, a pop-up storm arrives. You don't want it to get too hot in the summer or not be able to use your retractable awning when it rains.
Consider your entire property and identify areas where you could use additional protection from the elements. A retractable awning can be an asset over your porch door for those rainy days when you're unloading groceries or getting little ones in and out of the house.
SPF Screens & Awnings has all your sun-blocking and insect-stopping needs covered. Our sales team would love to share with you additional products such as retractable solar screens or garage door bug screens. Consider more than one awning over your pool to provide maximum coverage.
Caring for your retractable awning is quite simple and will not take much time and effort. A few times a year we recommend cleaning and checking the components of the retractable roof system.
Commonly Asked Questions About Motorized Awnings in North Naples