Jacksonville Retractable Awnings
Awnings are a great addition to any home, providing shade and protection from the sun. They come in various styles and colors. Motorized awnings for your deck are a great option, as they can be retracted when not used. This allows you to enjoy the outdoors without worrying about the sun or rain. Retractable awnings make your patio or deck a more comfortable and inviting relaxing space. If you're considering adding a retractable awning to your home, please contact us today to get started.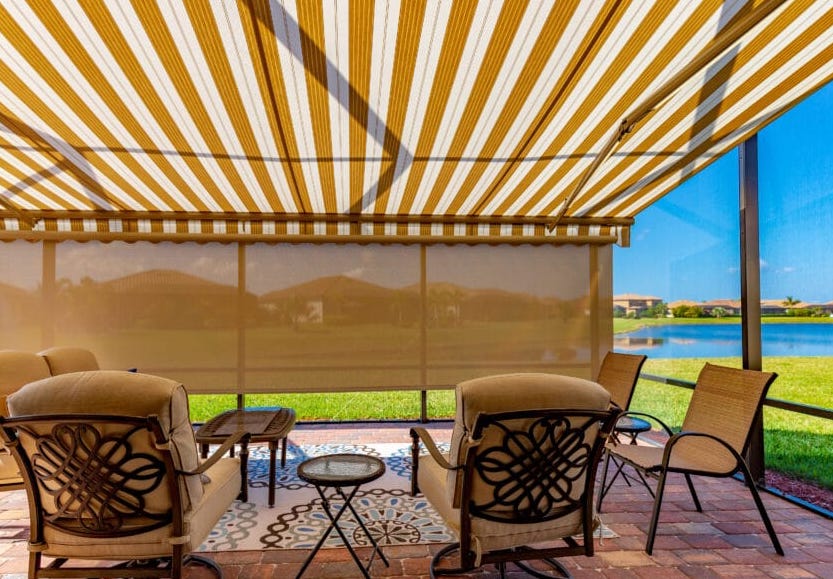 Benefits of a Retractable Awning for Your Jacksonville Home
A motorized retracting awning for your porch is a great way to add shade and comfort to your Florida home. With this addition, you are essentially adding another usable room for entertaining family and friends or just relaxing and enjoying the view. However you decide to utilize your retractable deck awning, we are confident you will be pleased with your purchase.
When the weather changes quickly, you don't need to move inside. A motorized retractable deck awning will keep your outdoor furniture dry and safe from passing showers!
The sun's harsh rays can quickly fade outdoor cushions and decorations without the proper protection. A retractable awning for your lanai is an excellent way to block out this harmful light, ensuring that you don't have any premature fading from the sun.
The canvas fabric of these outdoor retracting roof systems blocks 97% of the sun's dangerous UV rays, so you can enjoy your day in the shade without fear of getting too much exposure to the sun.
If you want to turn your home into a showpiece, adding an elegant retracting shade awning is a perfect way. It will add value to your home and appeal to potential buyers in today's competitive housing market!
How Does a Retractable Motorized Jacksonville Awning Work?
A retractable awning for your porch is a heavy-duty structure with arms on either side of the remote-controlled canopy. These arms extend and roll out the fabric roof from the encased hood housing, protecting you from the elements.
Manual Awning vs. Motorized Awning
The motorized retractable patio awning is easy to operate by simply pressing a button on the remote. You can instantly get shade and shelter from the comfort of your seat! A manual roof requires you to stand up to pull it out, making operation inconvenient and harder over time since more parts are manually moving around.
Jacksonville Motorized Deck Awning Features
Retractable motorized awnings are an easy way to provide shade and shelter for your deck, patio, or porch. They come with convenient options that make them functional in Jacksonville homes like yours! SPF has designed these products with Florida homes in mind to add comfort and style to your outdoor oasis.
If winds become too high, the automatic wind sensors will retract the motorized canvas awning, ensuring that high winds do not damage the top.
We partner with Sunbrella to provide the fabric of our retracting deck awnings. These quality materials are mold and mildew resistant. The color won't fade over time, thanks partly to the UV-resistant material used during manufacturing rather than applied after the canvas roof has been constructed like many other fabric companies do.
With the push of a button, your motorized retractable awning is released and ready for use on your lanai. The quiet yet powerful engine does all the work necessary to make this happen!
One of the features you might enjoy is saving on your energy cost each month. Retractable porch or deck awnings can significantly reduce the temperature inside because the fabric roof system blocks harmful UV rays.
SPF is committed to providing only the highest quality products and services. Our high-quality parts are made here in America, and our local manufacturing facility assembles your customized retractable awning.
Partnering with SPF Screens & Awnings
We are proud to be a family-owned business and are happy to warranty all motorized sun blocking products. We aim to keep prices low for our customers and will gladly price match competitors. We confidently offer quality products with competitive pricing. Check out the five-star rating our valued customers have given us.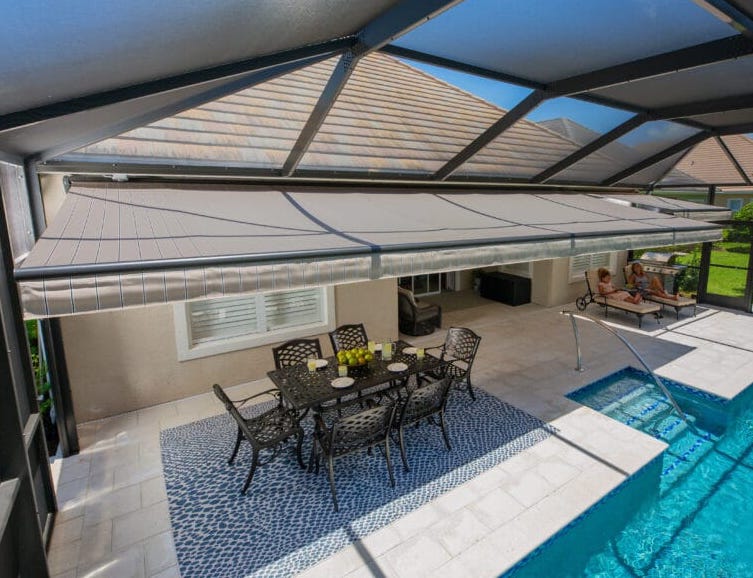 Get Started: Easy As 1-2-3
You can rest assured that our company has the most up-to-date and efficient process for your needs. We are committed to providing a stress-free shopping experience, and our team is ready to assist you with choosing the right motorized fabric awning for your deck or lanai.
Our qualified sales team offers a free customized quote! They will come to your home, measure the space you would like to have a motorized awning installed, and help you determine if there are other options to increase protection against the elements.
Your home reflects you and your personality, so let us help decide the best color and style of retractable motorized awning. Our talented design team is ready to assist you with this step.
We'll send our professional installers for your motorized retractable awning to set up when the day arrives. Rest assured that someone from our quality team will do it for you since we do not hire contractors to do the work! Check out some of these photos from our gallery.
Points to Consider When Shopping for a Retractable Motorized Patio Awning in Jacksonville
One of SPF Screens & Awnings' goals is to satisfy customers. We encourage you to consider these additional points while shopping for a motorized awning for your porch, patio, or deck. As always, contact us with any questions you may have.
Jacksonville Florida Weather
The weather in Florida is notoriously unpredictable some days. One moment the sun can shine, and moments later, rain is pouring from the sky. A retractable canvas awning can roll out within minutes with just the press of a button, allowing you to continue enjoying the scenic views.
Consider areas around your home where you could use protection from the elements. You utilize a side door when you bring groceries inside, a sliding deck door, and interior windows where the sun can distract you while watching TV.
SPF Screens & Awnings is more than just motorized awnings. We also have retractable solar screens that can be paired with your awning purchase for maximum protection against harmful UV rays. Our retracting interior window shades are perfect for your media room or office where you need the sun's glare to be blocked.
Maintenance of Your Jacksonville Motorized Retractable Awning
If you have a motorized awning installed on your home, keeping it maintained, and clean is essential. Retracting canvas roofs can protect your home from the sun and weather, but only if they are in good condition. Here are some tips for cleaning and maintaining your awning.
Remove Debris

A motorized deck awning can be a collector of twigs, leaves, and other debris if it has been left extended for some time. Gently remove these items using a soft-bristled broom. For hard-to-reach spots, use a ladder.

Clean Stains

Using a bucket of water and mild soap, along with a soft cloth, wipe away any residue such as bird droppings or other stains that have set in.

Rinse Away

Use a garden hose or a bucket of clean water to rinse the dirty soapy water, and the beautiful fabric can dry in the sun. We do not recommend using a power washer as the pressure can cause damage to the material.
Frequently Asked Questions About Retracting Canvas Awnings in Jacksonville