Fort Lauderdale Retractable Awnings
Florida is known for its year-long sunshine, and outdoor activities are endless. Everyone benefits from vitamin D. It gives stronger bones, reduces stress, and provides better sleep. However, too much sun can cause serious health conditions in the long run. Sun Protection of Florida offers protection from the hot sun so you can still enjoy the outdoors in the shade.
Our team of skilled professionals is ready to help you, so please don't hesitate to reach out.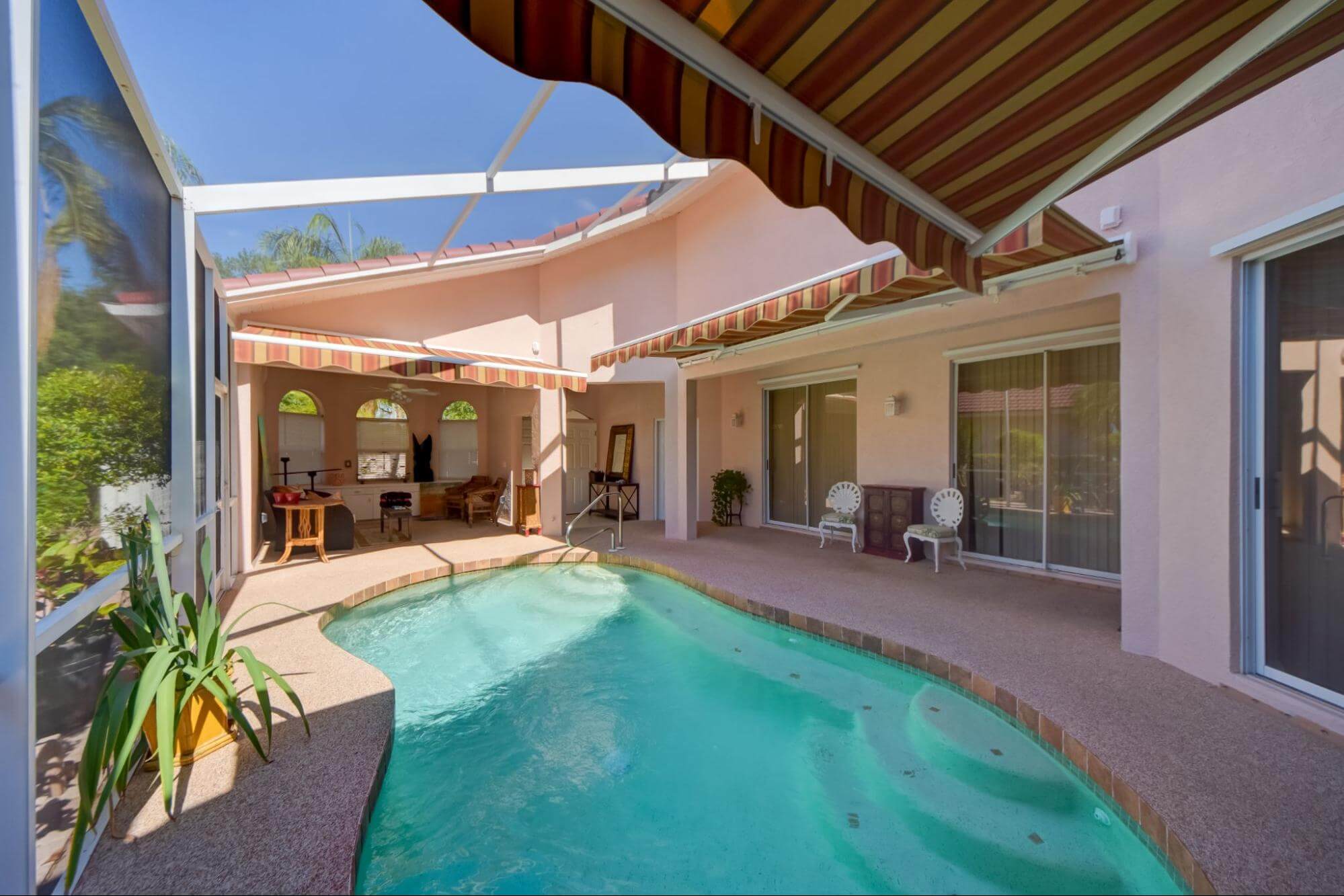 Features of a Motorized Awning in Fort Lauderdale
There are many positives to owning a motorized retractable awning for your deck, patio, or porch and you will have easy access to shade and shelter in minutes. SPF has designed our retracting products with Florida homes in mind, and we are confident you will find what you are looking for at our local one-stop shop.
It truly does not get any easier than pressing a button, and your motorized retractable awning is released from its housing. The quiet yet powerful Somfy motor does all the work for you.
The motorized roof system will provide shade for not only the exterior of your home but also the interior. The cost of cooling your home will decrease from the additional blockage of the sun.
We have partnered with Sunbrella to provide the fabric of our retracting deck awning. This quality material is mold and mildew resistant, and the color will not fade.
SPF uses only high-quality parts that are made here in the USA. We strive to provide only the best to our clients and customers.
Sun Protection Fort Lauderdale Price Match Guarantee and Warranty
We are proud to be a family-owned and locally-operated business and are happy to warranty all our motorized retracting protection products. We aim to keep prices low to our customers and will price match any competitor apples to apples. Because SPF is a local company, we can confidently offer you the best quality products with competitive pricing. Our valued clients have given us a five-star rating that we continue to stand behind.
Benefits of a Fort Lauderdale Motorized Retractable Awning
SPF uses high-quality parts made in the USA for our retractable canvas roofs. We have partnered with Sunbrella fabrics to offer you a wide variety of materials and colors that will complement your home. A motorized awning will provide you the opportunity to spend more time outdoors in a comfortable and relaxing environment.
The canvas fabric blocks 97% of the sun's dangerous UV rays so you can enjoy your outdoor patio without the hot sun harming you or your loved ones.
The weather can go from sunny to rainy quickly, but that doesn't mean you need to move indoors. A motorized retractable deck awning will keep you and your outdoor furniture dry.
Our wind sensors will automatically retract your motorized deck awning into its protective housing when it determines the wind is too strong for the fabric roof.
Adding a retracting shade awning will instantly boost the value and appeal of your home. Potential future buyers will appreciate the additional "room" they gain from your investment.
Improves Patio Furniture Longevity
The sun can cause premature fading of your patio cushions and decor without something to protect them from losing color. A motorized retractable awning puts a barrier between your furnishings and the scorching sun.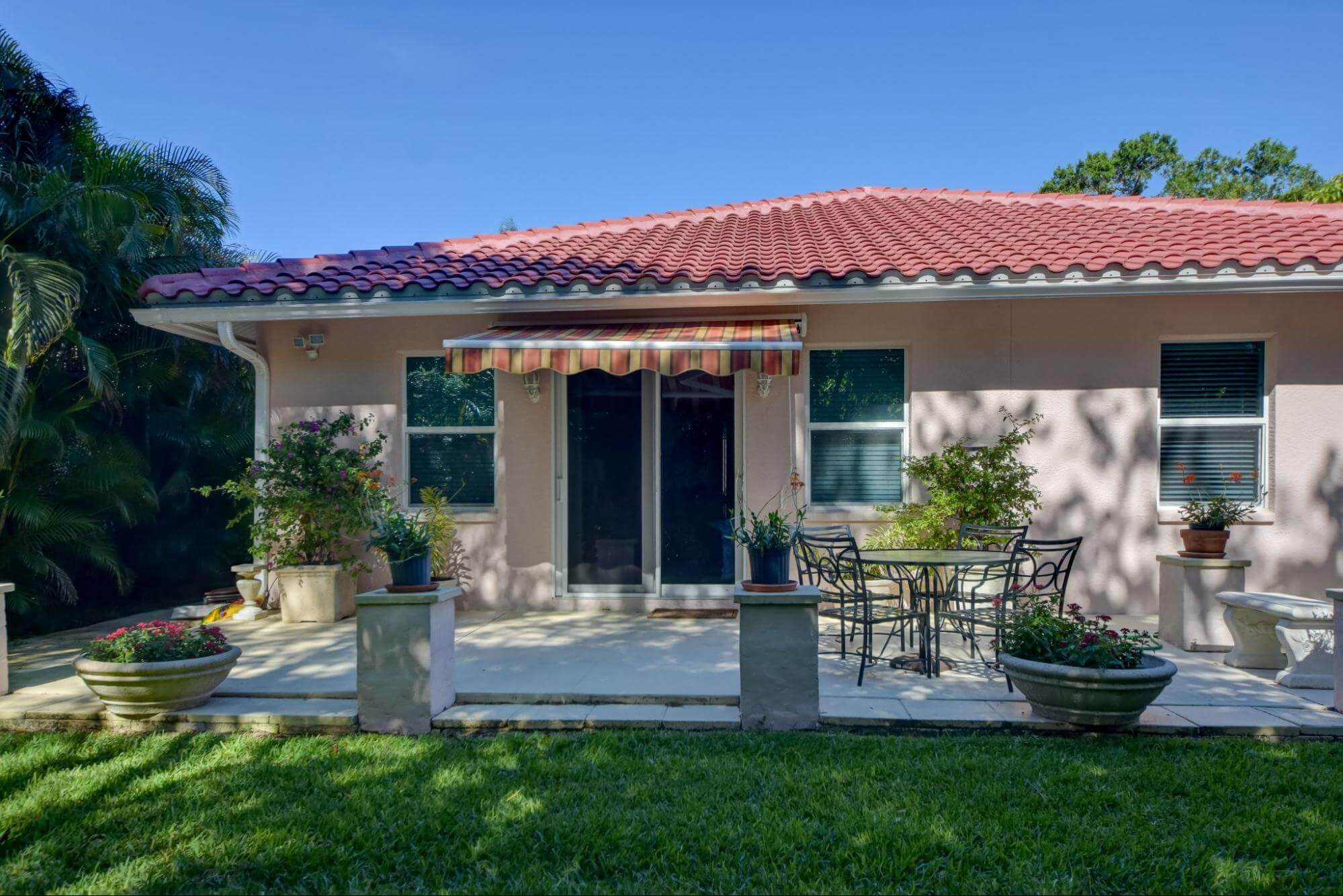 How Does a Retractable Awning Work in Fort Lauderdale?
A motorized retractable awning is a solid structure with arms on either side of the mechanical canopy. These arms extend and roll out the canvas roof from the encased hood housing, providing you with instant shelter from the elements.
Fort Lauderdale Manual Awning vs Motorized Awning
A motorized retractable patio awning is easy to operate by simply pressing a button on your remote. From the comfort of your seat, you have instant access to shade and shelter. A manual shade roof requires you to stand up and pull out the awning yourself, and it is not convenient and will be harder to roll out after time.
Easy Steps to Get Your Retractable Motorized Fort Lauderdale Awning
Sun Protection of Florida is a premier provider of motorized retractable sun-blocking products, and we have a simple process to make your shopping experience stress-free. See what some of our satisfied customers have to say about their experience.
Anyone interested in learning more about SPF and how we can help you with your shade needs is encouraged to get a free customized quote. Our sales team is ready to help you with measurements and determine areas where your home could benefit from additional protection from the sun.
Our talented team of designers will help you decide the best color and style options that will suit the design and landscape of your home.
We will send our professional installers when the day arrives for your motorized retractable awning to get set up. We never hire contractors to do our work, so rest assured that someone from our quality team will do the work for you. Check out some of our retracting awnings here!
Things to Consider Before Purchasing a Motorized Awning for Your Fort Lauderdale Home
SPF desires every customer and client to be delighted with their purchase. As part of the buying experience, we encourage you to think through these points.
Florida Weather: Living in Florida, you will want to be prepared for the heat and rain. A retractable patio roof can retract and extend quickly when the weather turns.
Shade Needs: You should take the time to walk around your home and identify not such apparent places protection would benefit your family.
Solar Screens: SPF offers several different solar blocking options such as retracting interior window shades, garage door bug screens, and much more. Consider pairing multiple products for maximum coverage.
Commonly Asked Questions Regarding Motorized Awnings in Fort Lauderdale