Clay County Retractable Awnings
A motorized retractable awning can bring new life and updated aesthetics to your property while transforming the place you call home into a comfortable outdoor living space. Whether you're located along St. Johns River or closer to Middleburg, the ultraviolet rays of Clay County, FL, can harm you and your family, and SPF Screens & Awnings is here to serve your needs. We offer an in-house design team that is happy to assist with customization options and a group of skilled professionals that will answer any questions along the way.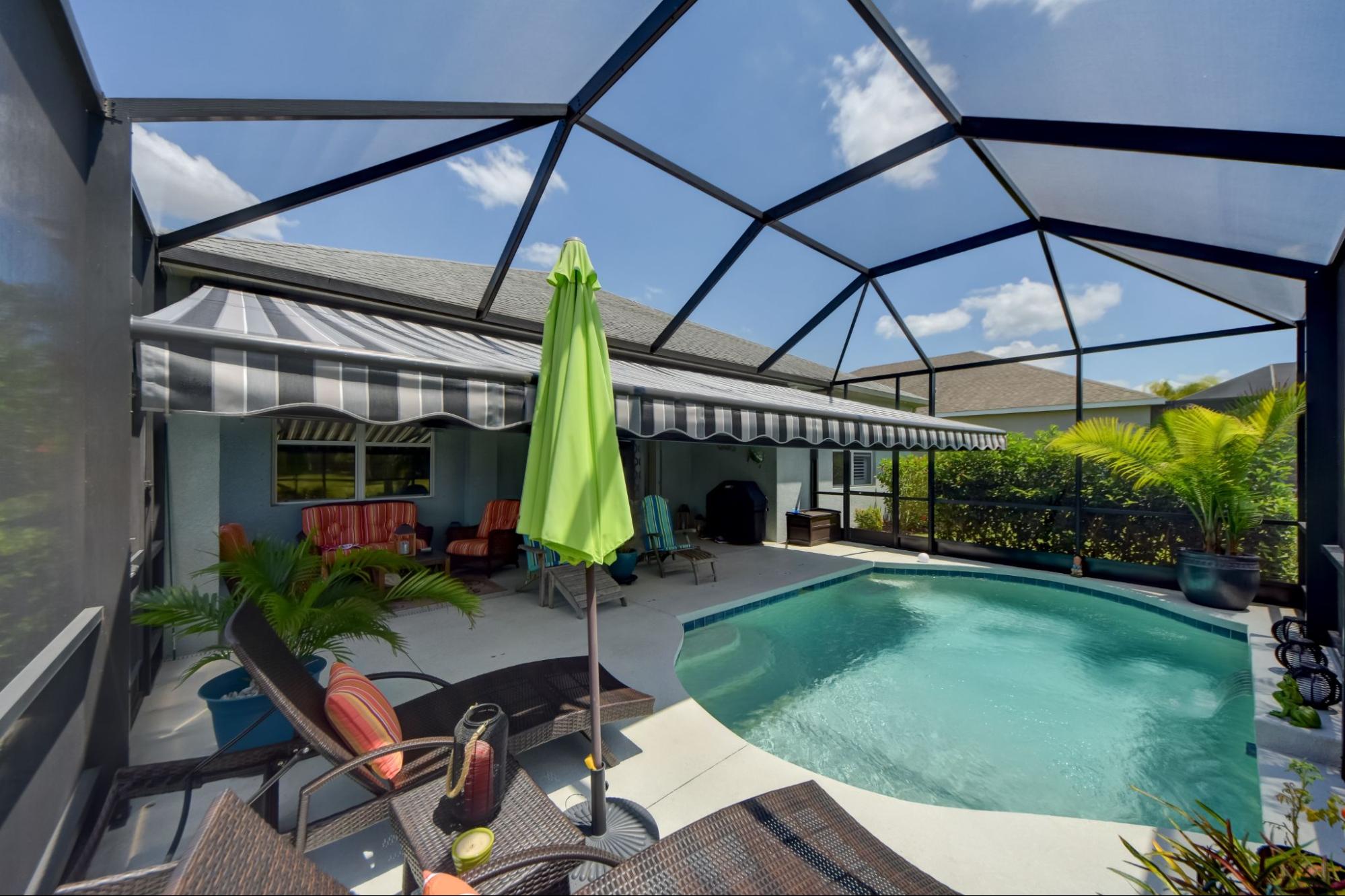 Advantages of a Retractable Awning in Clay County
SPF uses only high-quality components produced in the USA for all of the canvas used on the roofing of our retractable awnings. Partnering with Sunbrella Fabrics, we offer an extensive range of materials and colors that perfectly complement your home. Comfortably immerse yourself in the peace of your protected outdoor space with a retractable awning.
Protection from Dangerous UV Rays
SPF retractable awnings provide an effective sun protection solution and unmatched UV ray protection. With the convenience of motorized awnings, you will be protected when you need it most without being bothered by manual labor or cumbersome installation procedures.
Cool and Comfortable Environment
Under your new protected patio, you can create a calm, comfortable environment to relax and entertain. Motorized awnings allow you to control your sun protection options with just a touch of a button. With our motorized retractable awnings, anyone in Clay County can stay cool and protected when needed.
Our retractable awnings are designed to reflect the heat and reduce cooling costs in your home. With the best-rated motorized retractable awnings, you can keep your AC running less often, resulting in lower energy bills throughout the year.
Adds Value to Your Clay County Home
A motorized retractable awning is a perfect accessory for Clay County, FL homes. By investing in an SPF awning, you are investing in a long-lasting addition that will increase your home's value and create your outdoor paradise.
Quiet and Easy-to-Use System
If you're looking for convenience and tranquility, then SPF retractable awnings are the perfect fit! Our motorized systems operate with a smooth and silent operation that won't disturb your family and guests.
Our Price Match Guarantee for Florida Awnings
When choosing SPF Screens & Awnings, you are guaranteed the best deal on motorized retractable awnings in Clay County and all of Florida. With our Price Match Guarantee and 10-year warranty, you can be sure that you are getting the highest quality awning for the lowest price, making SPF your top choice for outdoor protection needs.
Our customers have given us fantastic feedback. Check out our five-star ratings!
Clay County Awning Features
Whether you need a retractable awning for decks, patios, balconies, or any other outdoor space, the features of our motorized retractable awnings provide the highest level of sun protection suitable for any area. With our 100% satisfaction guarantee and experienced engineers who will assist you from start to finish, we are confident that you will love the features and benefits of your new investment.
When your motorized awning is not in use or closed, it will be encased in a protective hood housing, safeguarding the fabric from natural elements and giving your patio a complete look regardless of the weather. This housing also comes in a variety of colors to match the exterior of your home and selected fabrics.
Sit back and enjoy your outdoor oasis! Simply press a button, and your motorized retractable awning will open or close quickly. With the convenience of our easy-to-use remote control, you can adjust the angle of your awning and enjoy the perfect shade anytime.
The weather in Clay County, FL, can be unpredictable. With SPF retractable awnings, you won't have to worry about strong winds that can damage your awning. Our wind-sensing technology automatically closes the awning when heavy winds are detected, ensuring your safety and avoiding potential damages.
Durable and Colorful Fabric Choices
On top of our wide array of customizable color and pattern options to perfectly match your Clay County home, all our fabrics are durable and offer up to 99% UV protection. Thanks to our partnership with Sunbrella Fabrics, all SPF awnings are tested to ensure a long life in the Florida sun and stay resistant to water, fading, or mold for years to come.
Cities We Service in Clay County, FL
No matter where you are in Clay County, FL, SPF is here to provide you with the highest quality sun protection services. We proudly serve Orange Park, Middleburg, Keystone Heights, Green Cove Springs, Penney Farms, Fleming Island, and all surrounding areas.
If you're located outside the Clay County area, check out our other service areas in Florida!
How to Purchase a Retractable Awning from SPF Screens & Awnings
Investing in a motorized retractable awning from SPF designed to be quick and easy. Begin your purchase by scheduling an in-home consultation with one of our experienced engineers by contacting us via email or phone. Once we've walked through the specifications of your sun protection needs, you will work alongside our design experts to perfectly match your home's aesthetic.
Contact Us for a Free Quote

Take the first step to protecting your home from harsh sun rays by contacting us today for a free quote. We guarantee you will be satisfied with your SPF retractable awnings, and our experienced professionals are eager to help you start your journey.

Contact us today and begin enjoying your outdoor oasis as soon as possible!

Choose the Best Awning for Your Home

By working alongside our in-house design team, you will create the perfect sun protection solution for your Clay County home. Choose from various sizes, durable fabric colors, and patterns that will provide outdoor sun protection and an aesthetic value that will set your home apart from others.

Schedule Your Installation

Once you've chosen the size, fabric, and color of your awning, your job is done! From here, our installation specialists will work with you to find a convenient time for your home visit. During this visit, our team will install the awning, show you how to use it, and answer any questions you may have.
Why Choose SPF for Your Clay County Awning
Serving Florida residents since 2008, SPF Screens & Awnings has grown to be the most trusted provider of motorized retractable awnings in Clay County, FL. We are proud to provide our customers with high-quality materials, fast installation times, and unmatched customer service. Our dedication to providing superior sun protection products sets us apart from our competitors and makes SPF the best choice for retractable awnings in any area of Florida.
Make Your Appointment for a Retractable Awning Consultation in Clay County
We look forward to helping you create an outdoor escape that will keep you cool and comfortable all summer long! Start the process today by scheduling your free consultation with one of our experienced engineers.
Frequently Asked Questions About Clay County Awnings