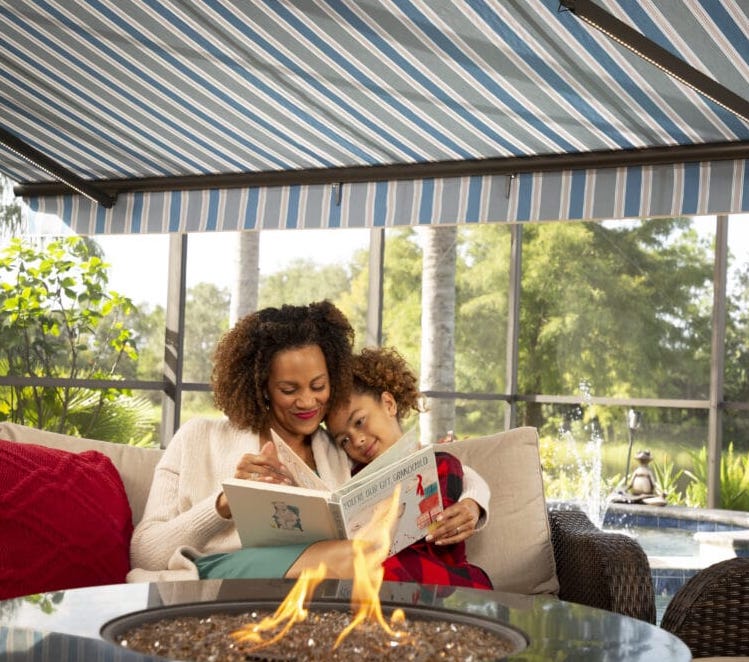 Benefits of Installing a Motorized Awning on Your Home in Boca Raton
If you're looking for a way to enjoy your patio, deck, or porch without being bothered by the hot sun, consider having a motorized retractable awning installed. There are many benefits to doing so, including:
With one of our awnings, you can create a shady oasis on your patio or deck that will make it more comfortable to spend time outdoors. A retractable awning can also protect you and your family from harsh UV rays, keeping you safe and comfortable.
Protection From Rain and Wind
In addition to providing shade, our awnings can also provide protection from rain and wind. If you have a party or gathering planned and the weather forecast is calling for rain, you can simply extend your awning to keep your guests dry.
Our awnings can also help keep your patio furniture safe from wind damage.
If you're thinking of selling in the future, an awning can be a selling point for potential buyers looking in the Boca Raton area.
For your convenience, our awnings can be operated with a remote control. You can extend or retract your awning from inside your home or while you're relaxing on your patio or deck.
Durable, High-Quality Materials
Our awnings are made from durable, high-quality materials that can stand up to the Florida weather. The fabrics we use are fade-resistant and easy to clean, so your awning will always look its best.
For added protection, our awnings come with an automatic wind sensor. If the wind picks up, your awning will retract automatically to prevent damage. This means you don't have to worry about keeping an eye on the forecast – your awning will do it for you!
Our awnings are easy to use and maintain. With just a push of a button, you can extend or retract your awning. And, because they're made from high-quality materials, they're easy to keep clean.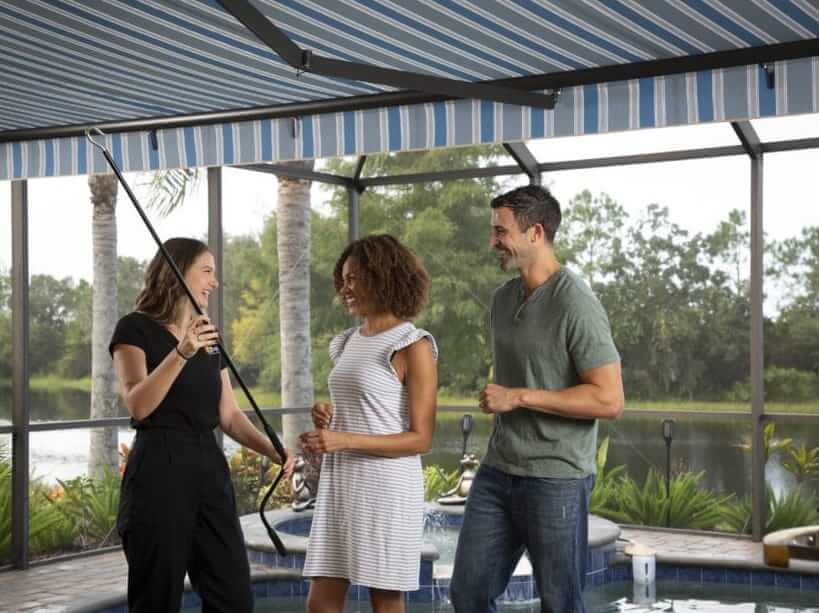 What's the Difference? Manual Awnings vs Motorized Awnings
If you're considering having an awning installed on your home in Boca Raton, you may be wondering if a manual or motorized awning is right for you.
With a manual awning, you'll need to physically extend and retract your awning. This can be more challenging if your awning is large or heavy, or if the awning covers larger windows.
On the other hand, you can extend or retract a motorized awning with the push of a button. This is convenient if you want to be able to adjust your awning while you're relaxing on your patio or deck.
Why Choose SPF Boca Raton for Your Motorized Awning
At SPF Screens & Awnings, we specialize in providing high-quality retractable awnings to homeowners in Boca Raton.
When you choose us for your motorized awning needs, you can be confident that you're getting the best possible product and service. We'll work with you to find the perfect awning for your home and budget, and we'll make sure it's installed properly.
Local, Family-Owned Business
We're a local, family-owned business, and we take pride in providing our customers with the best possible service. We've been in business since 2008, and we have a reputation for quality products and customer satisfaction.
We offer a price match guarantee to ensure that you're getting the best possible value for your money. If you find a better price on an identical product from another company, we'll match it!
We stand behind our products and service with a peace of mind warranty. If you're not completely satisfied with your awning, we'll make it right.
The first step is to ask for a free quote. We'll provide you with a no-obligation estimate for your new awning once you decide that we're the right fit for your needs. Our sales team can measure your space and provide expert recommendations so you can be sure you get the best product for your home.
Choose From Custom Options
We offer a variety of custom options so you can choose the perfect awning for your home, with a wide selection of fabrics, colors, and styles to choose from.
Consider Additional Products
In addition to our retractable awnings, we also offer other products to help you enjoy your outdoor space. See if any of these would suit your needs and help make your home more comfortable!
Sit Back While We Install
Once you've made your selections, we'll get to work on installing your new awning. We'll take care of everything so you can sit back and relax!
Enjoy Your New Boca Raton Retractable Awning!
Once your awning is installed, it's time to enjoy it! Sit back and relax in the shade on a hot day, or use it to keep your home cool in the summer. Your awning will provide years of enjoyment!
Frequently Asked Questions About Boca Raton Awnings