Baker County Retractable Awnings
Looking to add some protection from the sun and rain to your home in Baker County? A retractable awning is a great option! These awnings can be pulled out when needed, and then retracted when not in use.
At SPF Screens & Awnings, we've designed our awnings to provide you with the shade, protection, and convenience you need to really enjoy your outdoor space.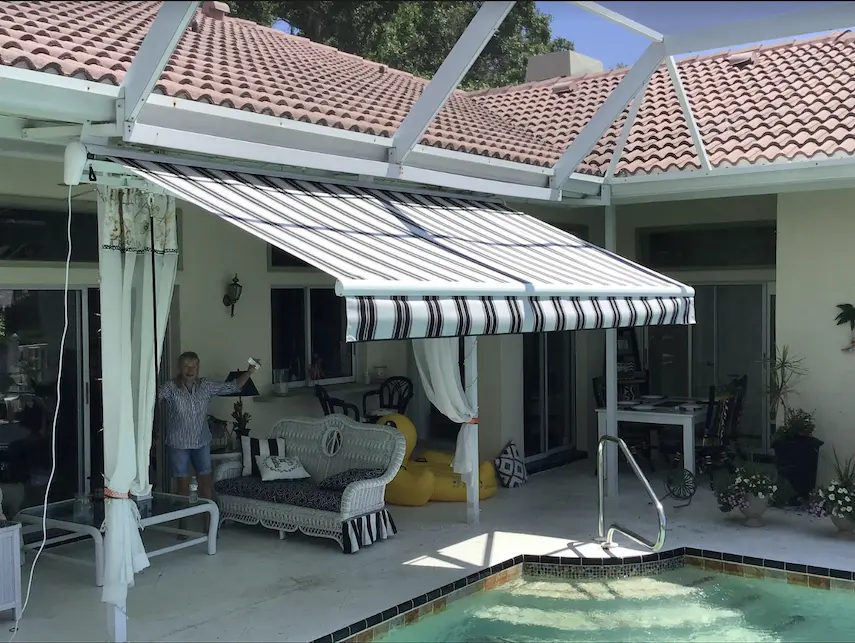 Best Features of Motorized Awnings from SPF Screens & Awnings
When you purchase a motorized retractable awning from SPF, you'll be able to appreciate the following features:
Made With High Quality
Materials
We use only the best materials in our awnings to ensure years of reliable service, offering UV protection and the ability to withstand rain showers.
Equipped With a Convenient Wind Sensor
Our motorized awnings come with a wind sensor, which will automatically retract the awning when it senses wind speeds that could damage the awning. This feature saves you time and grants you peace of mind by ensuring your awning is protected.
Our awnings can be operated with a simple push of a button, making it easy to get the shade and protection you need.
Why a Retractable Awning Makes Sense for Your Baker County Home
There are many reasons to consider a retractable awning for your Baker County home. When you install a motorized awning, you can:
A new awning can add a touch of style and class to your home's exterior, boosting your curb appeal and making your home look even better.
Increase Your Home's Value
Not only will a new awning make your home look more appealing, but it can also increase your home's resale value. With a high-quality awning from SPF, you can enjoy many years of use and feel good about your investment if you decide to sell or refinance your home down the line.
Make Your Patio
Comfortably Shady
If you enjoy spending time on your patio, a retractable awning can make it more comfortable by providing shade from the sun. This way, you can relax outside without worrying about getting too hot.
Keep Your Outdoor
Furniture Dry
When you have a retractable awning, you can keep your patio furniture dry even when it's raining. This is because the awning will provide protection from the rain, keeping your furniture in good condition for years to come.
Lower Your Energy Bills
in the Summer
During the summer, the sun can make your home quite warm. But with an awning in place, you can block out some of the sun's heat, keeping your home cooler and lowering your energy bills.
How to Decide Between a Manual or Motorized Retractable Awning
When you're ready to purchase a retractable awning for your home, you'll need to decide between a manual or motorized option. Here are some things to keep in mind as you make your decision:
A manual awning is operated with a hand crank, which can be turned to open and close the awning. These awnings are typically less expensive than motorized models, but they can be more difficult to operate. Additionally, manually retracting your awning can be tiresome and inconvenient when you need to retract it during inclement weather, as you will have to go outside during storms.
A motorized awning can be opened and closed with the push of a button, making it very easy to use. These awnings are more expensive than manual models, but they're worth the investment if you want the convenience of being able to open and close your awning with the push of a button. Additionally, motorized awnings can be equipped with sensors that will automatically retract the awning during strong winds, providing an extra level of protection for your awning.
Cities We Service in Baker County
Macclenny
Glen St. Mary
Baxter
Cuyler
Olustee
Sanderson
Taylor
Black Bottom/Trail Ridge
Two Bridges
Eddy/Eddy Grade
Manning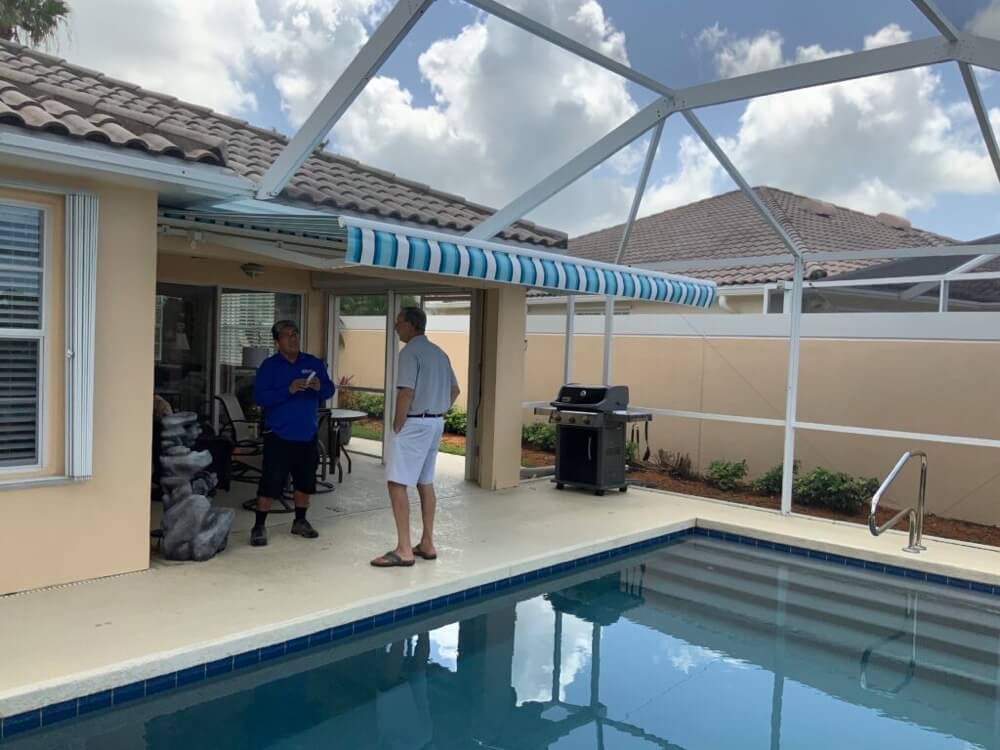 Why Choose SPF for Your Baker County Awning
SPF Screens & Awnings is the leading provider of retractable awnings in Baker County. Our high-quality products are built to last, and our team is always here to ensure you pick the perfect awning for your home. We are a family-owned, locally-operated business dedicated to providing our customers with the best awnings for their homes!
Don't wait any longer; upgrade your home today with SPF Screens & Awnings!
How to Purchase a Retractable Awning: Three Simple Steps
If you're ready to purchase a retractable awning for your home, the process is easy! Just follow these three simple steps:
Get a Quote

The first step is to get a quote from SPF Screens & Awnings. We will work with you to find the perfect awning for your home and provide you with a no-obligation quote.

Choose Your Customizations

Once you've received your quote, you'll be able to choose from a variety of customizations for your awning. We offer a variety of colors and sizes to choose from, so you can select the perfect awning for your home.

Schedule Installation

After you've chosen your customizations, all that's left to do is schedule installation! We will work with you to find a time that is convenient for you, and our team of experts will install your awning quickly and easily. You can just sit back, relax, and enjoy your new awning!
FAQs About Baker County Motorized Retractable Awnings