Nassau County Motorized Awnings
Life in Nassau County is all about enjoying the outdoors, and a retractable awning can help you make the most of your outdoor space. Whether you're looking to create a comfortable spot to relax in the shade or an outdoor living area where you can entertain guests, a retractable awning is a great way to improve your home.
Retractable awnings not only provide much-needed shade on hot days, but they can also protect your furniture from sun damage and keep your patio or deck dry during light rain showers. And best of all, retractable awnings from SPF Screens & Awnings are easy to use - just push a button, and they will open or close automatically.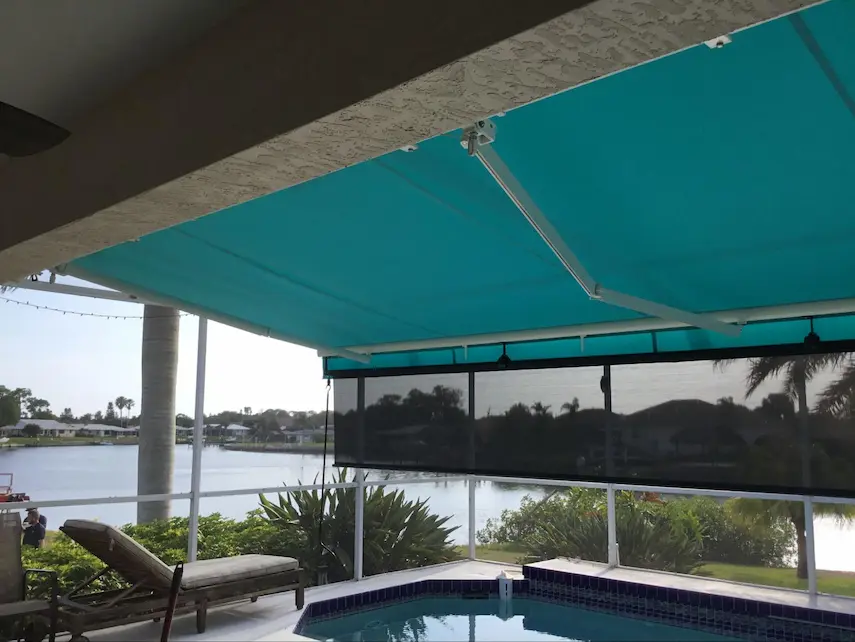 Why A Retractable Awning is a Great Investment for Your Nassau County Home
If you're interested in updating your home and making the most out of your available space, investing in a retractable awning is a great choice with a number of benefits.
Make Your Outdoor Space More Comfortable
On hot days, spending time outdoors can be uncomfortable - even oppressive - without any shade. With a retractable awning in place, you can create a shady oasis where you can relax and escape the heat. And if you want to bask or tan at all, you can easily retract the awning to enjoy the Florida sun.
Keep Your Furniture Safe and Dry
In addition to making your outdoor space more comfortable, a retractable awning can also protect your furniture from sun damage. The UV-resistant fabric of our awnings blocks out harmful rays that can fade and damage your patio furniture, rugs, and other outdoor belongings.
A retractable awning can also keep your patio or deck dry during light rain showers, so you don't have to worry about your furniture getting wet.
A retractable awning can also turn your outdoor space into an extension of your home by creating an additional living area. With a comfortable and inviting space to entertain guests or relax with family, you'll find yourself spending more time outdoors.
Improve the Curb Appeal and Value of Your Home
Not only will a retractable awning make your home more comfortable and functional, but it can also increase its curb appeal. A beautiful and well-designed awning can be a real asset to your home, and it can even increase its value.
Save on Your Energy Bills
By providing shade for your home, an awning can keep your indoor space cooler in the summer. This can lead to lower air conditioning costs and help you stay comfortable all season long.
Top Features of Your Motorized Awning from SPF
When you're ready to invest in a retractable awning for your Nassau County home, it's important to choose a high-quality product that will provide years of enjoyment. Here are some of the top features that come with all of our awnings.
Top of the Line Wind Sensor
Our awnings come with a built-in wind sensor that will automatically retract the awning when strong winds are detected. This helps to protect your awning from damage and ensures that it will last for years to come.
We offer a variety of options to customize your awning, including different colors and sizes. In many cases, we can help match your new awning to the style of your home for a cohesive look!
Our awnings are easy to use, with a simple push-button operation, so you can conveniently enjoy shade and comfort at the touch of a button.
We use only the highest quality materials in our awnings to ensure durability and lasting performance.
What to Consider When Purchasing a Retractable Awning
Before purchasing an awning, it's important to consider the following factors:
The Size of the Area You Want to Cover
When choosing an awning, you'll need to decide how much area you want to cover. Our awnings come in a variety of sizes to accommodate different needs.
You'll also want to consider the style of your home when selecting an awning. We offer a range of customizable styles, colors, and fabrics to choose from, so you can find the perfect match for your Nassau County home.
How You Intend to Use Your Awning
Think about how you'll be using your awning when making your selection. If you're looking for maximum sun protection, a fabric with a high UV rating is a good choice. If you want an awning that can withstand strong winds, look for one with a wind sensor.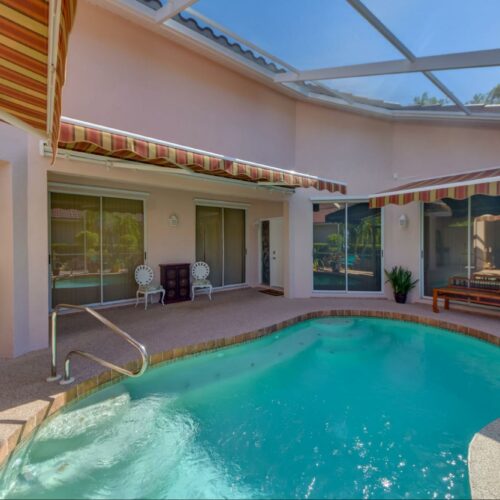 Places We Serve in Nassau County
Amelia City
American Beach
Becker
Boulogne
Bryceville
Callahan
Crawford
Dahoma
Dyal
Evergreen
Fernandina Beach
Franklintown
Gross
Hilliard
Ingle
Italia
Kent
Kings Ferry
Lessie
Nassau Village-Ratliff
Nassauville
O'Neil
Verdie
Yulee
How to Start Shopping for a Motorized Retractable Awning
If you're ready to start shopping for a retractable awning, SPF is here to help. We offer a wide selection of high-quality products to choose from, so you can find the perfect awning for your Nassau County home. We make the process easy so you can enjoy your new awning as soon as possible!
The first step is to request a free quote. We'll work with you to find the perfect awning for your needs and budget.
Select Your Customizations
Once you've selected the perfect awning, you can choose from a variety of customization options to make it your own. We offer a range of colors, sizes, and other features to choose from.
Schedule a Hands-Off Installation
Once you've made your selections, we'll handle the rest! We'll deliver and install your new awning, so you can start enjoying it right away.
Now that your new awning is installed, all you have to do is sit back and relax in the comfort of your enhanced outdoor living space.
FAQ About Retractable Awnings in Nassau County