Punta Gorda Motorized Retractable Screens
Many people enjoy spending time on their balconies or lanais, but the hot sun and annoying insects can make it difficult to be happy with these outdoor spaces. A motorized retractable solar screen can provide shade and protection from the sun and block mosquitoes, making it more comfortable to spend time outside. The retracting patio screens are easy to operate, and they can retract when they are not needed. In addition, they are available in various sizes to fit almost any space.
Retractable solar screens can also help to reduce heat and glare inside your home, making it more comfortable during the day. With a motorized retractable solar screen, you can enjoy your outdoor space without the discomfort of the hot sun.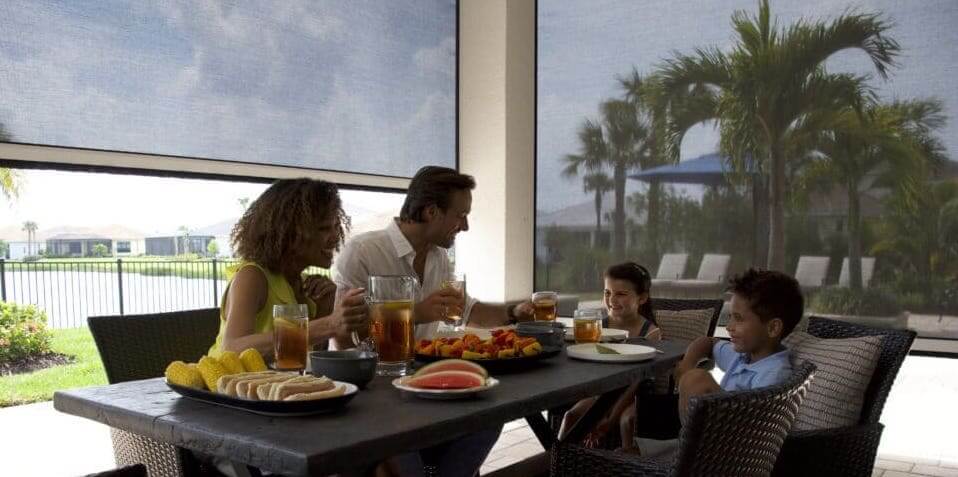 Features of a Punta Gorda Motorized Privacy Screen
We know you want the best for your Punta Gorda home, and that's why SPF has created a product that is easy to use, reliable, and effective. With our retractable products, you can confidently relax on your porch or patio without the elements getting in the way.
Each of our clients will have the opportunity to design a fully customizable retracting screen catered to their needs and space. Choose from various colors that will create a seamless look both inside and out.
Our remote-controlled solar screens are easy to use, protecting us from harmful UV rays. With just the press of a button, you can lower the solar screens to keep your home and patio cool and comfortable.
We have partnered with motors to power all our retractable privacy screens. This motor is made of heavy-duty elements; however, it is ultra-quiet.
You can purchase a high-quality, durable product with peace of mind when you buy from SPF. Our five-year warranty covers the mechanics and ten years cover your fabric--we use only USA-made parts! We understand how significant this investment is, so let's work together to give you the desired outcome. See what some of our valued customers have to say about their experience.
SPF Screens & Awnings is proud to serve the sunshine state and stands behind the fact that we construct and assemble all motorized retractable screens and shades locally. Because we keep production here, we can keep our prices competitive. Our qualified team looks forward to meeting you.
Our family is committed to providing customers with the best possible products and services. We have a personal stake in this business's success, which means we are willing to go the extra mile to ensure our customers are satisfied. This commitment to excellence has given us a five-star customer rating. If you're looking for a business that operates with family values in mind, look no further than SPF.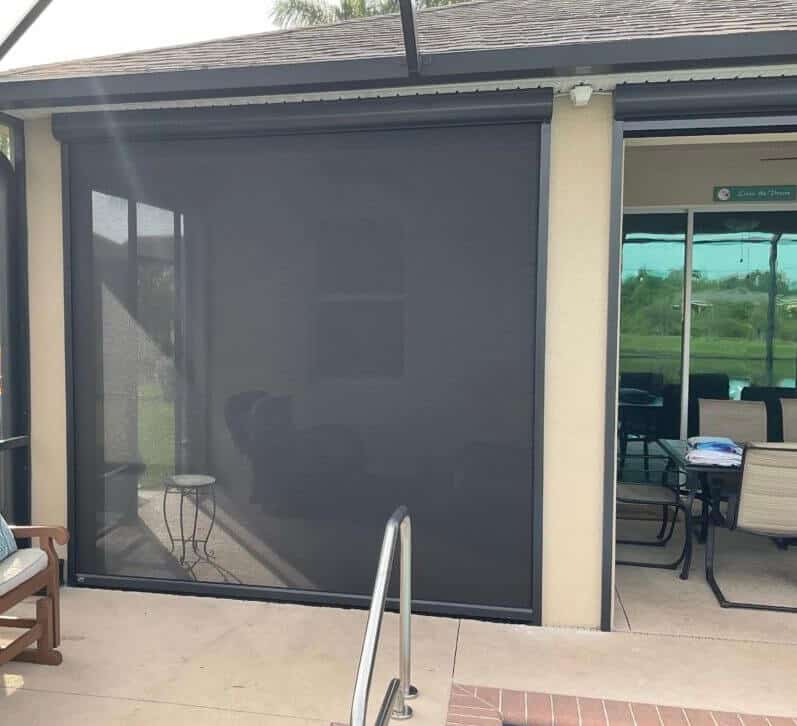 Perks of a Motorized Retractable Privacy Shade Punta Gorda
Motorized privacy screens for the balcony are a great way to improve comfort and relax while spending time on your patio or porch. Blocking the sun and keeping you dry allows you to enjoy the outdoors without worrying about the weather. In addition, it instantly adds style and sophistication to your entertaining space. Whether you are looking for a simple solution to keep the sun out or want to make a statement, a motorized balcony shade screen is a great option.
Once summer is in full swing, you may be spending more time outdoors enjoying the warm weather. However, along with the sunny days and longer nights comes the inevitable influx of mosquitoes and other pesky bugs. A retracting insect screen can help you enjoy the outdoors while keeping these unwanted visitors at bay.
The motorized mesh screens block mosquitoes and other bugs, so you can relax and enjoy your time outside without worrying about being bitten. With motorized privacy screens for the garage, you can have peace of mind knowing there is a barrier from pesky critters.
A motorized solar shade screen is a great way to keep your lanai cool and comfortable during the hot summer months. The shade screen protects against harmful UV rays, blocks sun glare, and lowers energy costs by keeping the sun from heating your home.
A retractable privacy shade for your deck is a great way to improve your home's comfort and energy efficiency. A retracting balcony screen is excellent for any patio, deck, or lanai, with easy operation and many benefits.
A porch, patio, or deck is a great way to enjoy the outdoors, but its contents can get ruined if left unprotected from the elements. A retracting motorized lanai screen will help keep your patio furniture and decor dry, allowing you to enjoy the scenic view even during light rain. So if you're looking for a way to relax outside even during bad weather, a retracting electrical lanai screen is the perfect solution.
Privacy Instantly Provided
A motorized lanai screen can offer you the privacy you need while also allowing you to see out. Concealment can be especially beneficial if you live close to your neighbors. If you have a patio or deck, a retractable solar screen allows you to enjoy the outdoors without feeling like you're on display. If you're looking for a way to boost your privacy, an SPF exterior retractable solar screen is the answer.
A home is one of the most significant financial investments most people will make. As such, many homeowners are looking for ways to increase the value of their property. One way to do this is to add features that improve curb appeal and functionality. An electric rolling solar screen is a perfect example of this. It provides instant shade on hot days but looks great from the street. As a result, it's the ideal addition for any homeowner who wants to boost their curb appeal and add value to their home. And because motorized privacy shades are so versatile, they will appeal to future Punta Gorda home buyers. So if you're looking for a way to increase the value of your home, consider adding a motorized retractable patio screen to your home.
SPF Punta Gorda Can Get You Started in a Few Easy Steps
SPF is a single source for all your sun protection needs. We're committed to providing you with the highest quality, most convenient sun-blocking products to turn your backyard into an oasis for family and friends to enjoy for years to come. Please reach out to us today to get started with these easy steps.
Get a Quote

Our sales team will come to your home to measure and recommend products that best suit your home and give your patio or porch a finished look. We offer a free customized quote that includes all your needs and wants. We are also happy to price match with a competitive quote.

Select a Style

Our talented team of designers will assist you with choosing the color, design, and style. We are confident with the various options available for your Punta Gorda porch, lanai, or balcony.

Consider Multiple Products

SPF offers a selection of motorized canvas roofs that can roll out in minutes when needed to protect from rain or harmful UV rays. Our many color and style options will suit your taste perfectly and protect your home from the elements.

We Will Install

Our qualified installation team will arrive on your scheduled day and treat your home with care and respect. We never hire contractors to do the job, so rest assured that the SPF team will complete the task.
Frequently Asked Questions About Punta Gorda Retractable Screens