Baker County Motorized Screens
When it comes to home upgrades, many people think about adding new features such as a pool or extra bedroom. However, there are other upgrades that can make your home more comfortable and enjoyable to live in, such as a motorized screen.
A retractable screen will keep you home cooler in the summer and boost your home's curb appeal – not to mention improve your privacy. If you're interested in installing a motorized screen in Baker County, FL, contact SPF Screens & Awnings today. We offer top-quality screens at competitive prices and would be happy to help you choose the perfect option for your needs.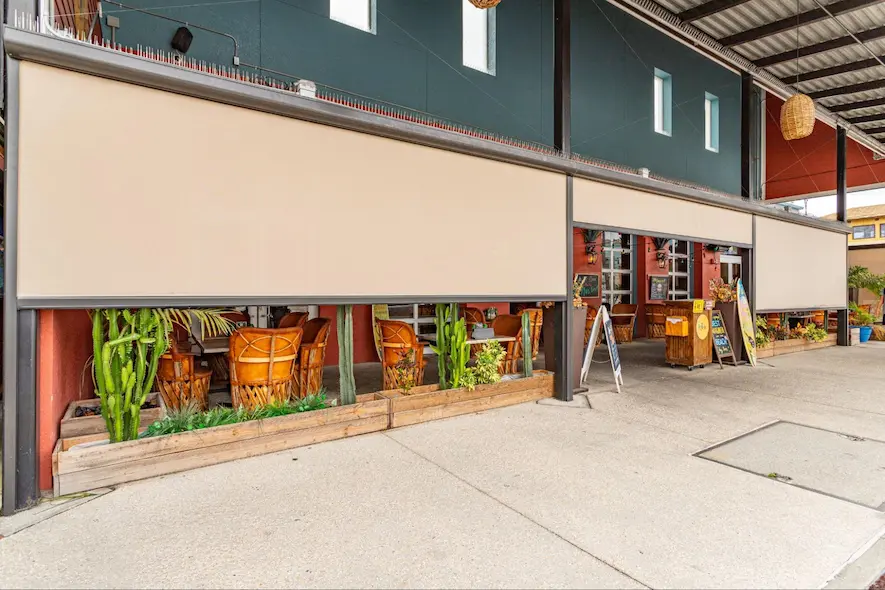 What Types of Motorized Retractable Screens Are Available in Baker County?
Depending on your needs and the specifications of your space, you may choose a different type of motorized solar screen. Here are some of the most common options to choose from:
These screens are designed to cover your lanai, patio, or porch and can be retracted when not in use. They're a great way to enjoy the outdoors without dealing with bugs or harsh sun rays.
Retractable Balcony Shades
If you have a balcony, you can install a motorized retractable shade to enjoy your space without worrying about the sun. With a solar screen in place, you'll have extra privacy, too!
A privacy screen can be a great investment, especially for spaces that are on ground level. They're great for blocking out nosy neighbors or passersby.
Window screens are a great way to keep out bugs and provide privacy without blocking out natural light. You can choose from several different types of window screens, including solar screens, insect screens, and privacy screens.
Keep your garage free of bugs with a motorized insect screen. This is a great way to enjoy your garage space and get fresh air without having to worry about pests.
Recessed screens are a great way to keep out bugs and provide privacy or shade without compromising the aesthetic of your space.
Benefits of Installing a Retractable Shade on Your Baker County Home
There are many benefits to installing a motorized retractable screen at your Baker County home, including:
One of the most common reasons people install motorized screens is for privacy. Whether you're trying to keep nosy neighbors at bay or just want some extra privacy in your home, a screen can help.
Another reason to install a motorized screen is for comfort. If you live in a particularly sunny area, screens can help keep your home cooler by blocking out the sun's rays. This can be a great way to reduce your energy costs in the summer months, as well.
Keep out bugs and harmful UV rays with a solar screen. These screens can keep your family safe and even help prevent your furniture from fading.
Motorized screens can also add value to your home. If you're looking to sell in the future, potential buyers will be impressed by the added features and comfort that screens provide. These screens are a worthwhile investment that will provide you with numerous benefits over time.
Features You'll Get With an SPF Sun Screen in Baker County
When you partner with SPF Screens & Awnings for your motorized screens, you'll enjoy a wide range of premium features and benefits. Here are just a few of the reasons to choose SPF for your Baker County home:
We only use the best materials for our screens, so you can rest assured knowing your screen will withstand the elements and provide years of use. We also offer limited 5-year warranties on our products to give you peace of mind.
Our team of experts will handle the entire installation process for you, so you don't have to lift a finger. We'll make sure your screens are installed correctly and work properly before we leave.
Our screens are designed for easy operation, so you can enjoy your space without any hassle. With just the push of a button, you can retract or extend your screens whenever you want.
Support a Family-Owned Business
When you choose SPF Screens & Awnings, you're supporting a family-owned and locally-operated business. We're dedicated to providing our customers with the best possible service, and we'll work hard to exceed your expectations.
Where We Work in Baker County

Macclenny
Glen St. Mary
Baxter
Cuyler
Olustee
Sanderson
Taylor
Black Bottom/Trail Ridge
Two Bridges
Eddy/Eddy Grade
Manning

How to Start Ordering Your Baker County Retractable Screen
If you're ready to start enjoying the many benefits of motorized screens, contact SPF Screens & Awnings today. We'll help you choose the right screens for your needs and budget with our simple, easy process.
The first step is to call us for a quote. We'll ask you a few questions about your project and give you an estimate for the cost of your screens.
If there are any customizations you're interested in, we can walk you through your options and the costs so you have a clear idea of what the price will be!
Once you've decided to move forward with your project, we'll schedule a time for installation. We'll work around your schedule to ensure the process is as convenient as possible! Our team will handle the entire installation process so you don't have to worry about a thing.
After your screens are installed, all you have to do is sit back and enjoy! You can finally enjoy your space without worry, knowing your family is safe from the sun's harmful UV rays, pesky insects, prying eyes, and more.
Frequently Asked Questions About Motorized Screens in Baker County