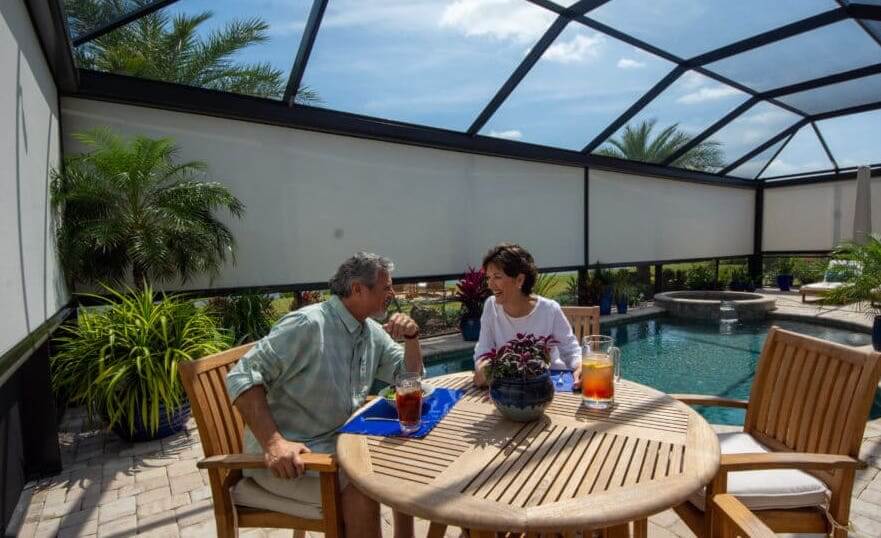 Benefits of a Lakewood Ranch Motorized Solar Screen
A retractable balcony screen offers many benefits. They can keep out pests, reduce glare and cool your home in the summertime! Recessed mesh screens also provide privacy for any area you desire to block from people passing by.
What better way to enjoy your outdoor space than with a motorized retractable privacy screen? When you need the shelter, all it takes is one push of a button, and these screens roll down for instant solitude. They're great if nosy neighbors or prying eyes are a nuisance.
Retractable solar screens are a great way to block out the sun's harmful ultraviolet rays, protecting you and your family from heatstroke. Our mesh-netted designs block 97% of the sun's harsh rays while allowing for valuable daytime views.
Retractable insect screens are an excellent investment for people who want to stay outdoors and desire to avoid being bitten by pesky mosquitoes. These screens work well, and they're easy to use and provide unbeatable protection against these pests! Plus, you also get an opportunity to enjoy your backyard or patio more.
The retractable privacy screen is an excellent investment for homeowners who want to increase the value of their homes. First, it can add an aesthetic appeal that will make your house more attractive in today's marketplace, leading us to our next point about energy efficiency! Keeping out unwanted heat and cold, these motorized patio screens help preserve indoor temperatures, so you'll spend less on the air conditioning or heating bills each month. Future home buyers will appreciate the resources you have in place to keep energy costs low.
Retractable recessed deck screens are excellent for protecting your patio furniture from the elements. These motorized systems protect against wind, rain, and sun so you can enjoy a safe environment without worrying about delicate or expensive pieces getting damaged.
It does not get any easier than simply pushing a button, and the motorized privacy screen will roll down smoothly and quietly. Operate the solar screen from the comfort of your seat!
We're committed to providing our clients with the best possible product. Our local manufacturing team uses only USA-made, heavy-duty parts to assemble each shade-blocking product.
When the recessed privacy screen is not in use, it will be stored in a beautifully encased hood and housing color-matched to your home's exterior.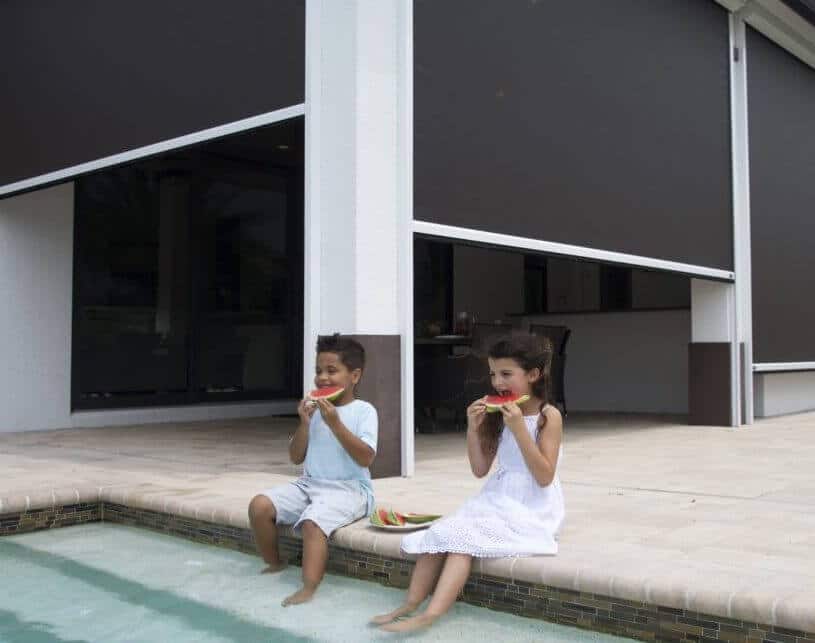 Peace of Mind Purchasing & SPF Warranty
Sun Protection of Florida provides you with the best retractable motorized privacy screens. We stand behind our products carefully designed and manufactured for your home or business needs by professionals who care about their work. You can purchase without worry because we offer an impressive ten-year warranty on fabric materials and five years on the mechanics. We are a family-owned, locally-manufactured business, and we are proud of the five-star rating our customers have given SPF. Because of these factors, we can keep pricing competitive, and we are happy to price match our competitors.
Lakewood Ranch Motorized Retractable Screen Types
Sun Protection of Florida has various products to block the hot sun, bugs, and light rain for your Lakewood Ranch home. Whether you are looking for motorized screens for your garage, balcony, porch, deck, or lanai, we are confident that we have just the right retracting solar screen. Reach out to our team today to get started!
The garage has become more than just a place to park your vehicle- it's an opportunity for people to work out, tinker with lawn equipment, and spend time on hobbies. However, this may be challenging if you have insects making it difficult to get anything done! With our motorized garage door screens, you can enjoy airflow while also keeping others from seeing inside as they drive by.
Relaxing poolside can be done comfortably without nosy neighbors seeing all that is happening. A retractable privacy screen lets you control how low the motorized screen comes down, giving you complete control.
The perfect addition for your apartment or condo is a motorized sun screen for your balcony or porch. These retracting solar screens let you enjoy your scenic views without being stuck indoors because of the hot sun, rainstorms, and more!
Interior retractable screens are a great way to keep the sun out of your home while still letting some natural light in. These motorized window shades can be used on any area that needs darkness, like media rooms and bedrooms, but they're also perfect for hard-to-reach areas such as foyer windows thanks to the remote-controlled operation.
A motorized retractable lanai screen is the perfect way to create a private oasis at home, whether you want it for intimate conversation or just some quiet.
We can help you find the perfect retracting shade screen for your home. Our qualified sales team is here to provide a free quote and answer any questions that may arise during this process! Schedule your appointment today!
We're excited to offer you our talented design team, who will be happy to assist with selecting colors and styles for your retracting sunshade.
Our team of installers will treat your home with care and respect. With years of experience, they know what it takes to install SPF motorized solar shades in a way that ensures their long-term durability while making sure you know how to operate them! We never hire contractors, so you can rest assured that our team will arrive on installation day.
Once the retractable privacy screens are installed, enjoy the beautiful outdoors without annoying mosquitoes, hot sun, or light rain keeping you inside. Control the motorized solar screens from the comfort of your seat without remote-controlled operation. Check out some of our work here.
You never know when a Florida storm or sunny day will come along, but you'll always have protection from the elements with a motorized retractable shade screen.
Shade Needs Around Your Home
One way to ensure you get the protection you desire is to walk around your home and determine additional areas that could use shade or protection again the elements. Our sales team will be happy to help you identify where a retracting shade screen could be helpful.
Pairing Multiple Products
In addition to retracting privacy screens, SPF provides motorized awnings that can be paired with our retractable solar screens to offer your outdoor entertaining space maximum protection against harmful UV rays.
Commonly Asked Questions Regarding Lakewood Ranch Retractable Privacy Screens